Wichita — The mission statement posted on the Web site of Metro-Boulevard Alternative High School here touts its commitment to the federal No Child Left Behind Act that was designed to make sure children of all races received a good education by monitoring their academic progress.
It states: "To 'leave no child behind' we will create an alternative environment where all students have the opportunity to learn."
But an Associated Press analysis of test scores reported under No Child Left Behind shows Metro-Boulevard school considers none of its students' test scores by racial subgroups.
Neither do four other alternative or special schools in this city: Metro-Midtown Alternative High School, Metro-Meridian Alternative High School, Alcott Academy and Morris W. Levy Special Education Center.
In Kansas, those schools are exempted under a loophole that excludes the scores of racial subgroups if each race's enrollment numbers fall under 30 students. Two years ago, the state raised the cutoff for students with disabilities to 40. The state is now analyzing data to see whether to raise the cutoff for all students to 40, said Alexa Posny, former deputy commissioner for the state's division of learning services.
Educators contend not including those scores would give a more statistically sound picture of how individual schools are performing, but excluding so many minority students may undermine the basic premise of the 2001 No Child Left Behind Act: to hold schools accountable by ensuring that all children, regardless of their race, were actually learning.
The mechanism to do that was by testing their progress by subgroups as whites, blacks, Asians, Hispanics and American Indians. The exclusions are particularly acute in rural Kansas because those smaller schools typically have fewer minorities.
"I don't really think that Kansas is purposefully trying to exclude students nearly as much as trying : to make accurate and true classifications. In any statistical method, the larger the group of students, the more reliable the statistics," said Steve Batt, director of research and assessment at Wichita public schools.
Proficiency improves
Kansas is closing the gap among academic proficiency levels of its racial groups, Posny said. The gap in reading proficiency levels, for example, between black and white eighth-graders has narrowed from 32 percent in 1999 to 20 percent last year.
Last year about 81 percent of white eighth-graders in Kansas were proficient in reading, compared with about 61 percent of black students, Posny said. In 1999, the reading gap between the races showed nearly 73 percent of white eighth-graders were proficient in reading, compared with 40.5 percent of blacks.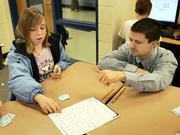 Wichita, the state's largest school district, reported all student scores to the state and used them all in preparing overall "adequate yearly progress" on individual schools, school officials said. But those schools where specific minority groups did not exceed 30 students did not count their scores for the purposes of racial accountability, officials said.
At Metro-Midtown Alternative High School, principal Michael Bruce was wary of what the No Child Left Behind Act would do to alternative schools like his that cater to the most academically vulnerable students in the district.
His school isn't large enough to divide any student scores by racial subgroups, but the consequences of failing to meet overall school standards under No Child - such as the loss of school accreditation - loomed large on his mind.
"It's high-stake tests for the educators more than the kids," he said.
To motivate his students, Bruce came up with the idea of offering a quarter credit for students who meet or surpass the achievement test standards. The strategy proved so successful, the entire Wichita school district has since adopted it.
Accountability at issue
At Cessna Elementary School in Wichita, minorities were divided into so many separate racial subgroups that the practical effect was that nearly 33 percent of its test scores were excluded, the data showed. The test scores of all white students are separately monitored, but none of those from minority groups were similarly differentiated under the No Child Left Behind Act.
The issue of racial subgroups in testing is one of accountability under the law, Batt said.
"It doesn't mean those students are not educated or the school does not know how those students are performing," he said.
What is happening with test scores in Wichita is mirrored elsewhere in the state and nation.
In Maize, for example, all schools separately track only the scores of their white students, not minorities, for the purposes of No Child Left Behind, the data showed.
While exclusion of minorities was by far more common, an analysis of state reporting data also showed that in predominantly minority schools it is the white students whose test scores are excluded. That was the case in heavily Hispanic schools such as Sunnyside, Beeson and Wilroads Gardens elementary schools in Dodge City. It happened in Edith Scheverman Elementary in Garden City and in Southland Elementary in Liberal.
In Wyandotte High School in Kansas City, Kan., test scores of black and Hispanics were separately tracked while those of whites and Asians were excluded. In Claude Huyck Elementary, scores of its black students were separately monitored while those of whites, Asians and Hispanics were excluded.
Copyright 2018 The Associated Press. All rights reserved. This material may not be published, broadcast, rewritten or redistributed. We strive to uphold our values for every story published.