Just call him the electronic auctioneer.
When Pat Kindle's 30 years of working with a farm supply firm ended, he started a new life as an eBay power seller. What began as a few sells here and there for himself and friends turned into a small business for Kindle, who now sells items for a steady clientele.
However, he laughs about his power-selling status.
"Being a power seller, (eBay) sent me a coffee cup and a mouse pad," he says.
To be classified as a power seller, one must unload at least $1,000 worth of items per month on the online auction site, maintain at least 98 percent positive feedback from customers and uphold eBay community values.
Status and all, Kindle is only one in a sea of users.
More than 150 million registered members eagerly use eBay to snatch desired items, make some extra cash or clean house. The online auction began in 1995 as a grass-roots site, enabling people to trade unwanted items. Today, the operation is worth more than $1 billion and advertises approximately 55 million items per day.
In a 2005 press release, eBay reports that more than 724,000 professional U.S. sellers use eBay as a primary or secondary source of income. In addition, it was reported that 1.5 million use the site to supplement their income.
"I discovered a pretty neat combination with our antique booth and eBay sales," says Kindle, who maintains a booth at the Antique Mall of Lawrence, 830 Mass. "We have had more than a few people and businesses come to us with estates of their spouse, parents or closed business."
It's like having another store, says Kindle, who lists an average of 30 items at a time and does enough extra business that he's moved into a higher tax bracket.
Nearly anything can be found on eBay. Recently advertised items included flooded school buses from the New Orleans school district and British pop artist James Blunt's sister. Practical and impractical items bring in more than $5 million every second, according to eBay's February corporate presentation.
The entrepreneurs
Other members of the power-selling elite include Barry Hyde and his silent partner, who preferred to remain anonymous. The two recently opened Lawrence eBay Store Inc., 644A E. Locust St, where locals can avoid hassle by using a type of eBay broker.
Photo Gallery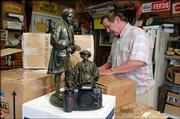 eBay fanatics
"Many people think it's an easy thing to do - and it is, for one-sy, two-sy items," Hyde says. "But actually it's a lot more work."
The store helps patrons sell their items so they don't have to register with eBay. Interested sellers begin with a consultation. By researching the item on eBay, Hyde and his partner estimate its price and demand. Once an item is accepted, they photograph it, post it one the site and monitor it for an average of seven days, sometimes more.
When the item sells, the store waits for payment, ships the item and informs the original owner. The partners try to choose wisely what to list.
"We try to stay a little over $100. That way, you're gonna get anywhere from $67 or less," Hyde says. "Everyone wants to believe their stuff is worth more than it is, when it's not. That's a hard thing to make people understand."
Depending on the item, Hyde says he and his partner take an average cut of 25 percent after shipping and miscellaneous fees. On big-ticket items, they retain only 6 percent to 7 percent.
Kindle says a quarter of his items usually sell at a better price on the Internet than through local or retail auctions - which isn't necessarily a good thing for local dealers.
"A lot of the stuff seen on eBay used to be in the antique malls," say Larry Billings, owner of the Antique Mall of Lawrence. "It definitely has hindered our business."
Even students
Even college students have hopped on the bandwagon. Finding what they want at discount prices or making some extra cash appeals to undergraduates living on a budget.
"Anything I have that I don't use anymore and is still worth something - I'll sell it," says Mike Gencarelli, a Kansas University senior from Leawood.
Gencarelli began using eBay in 2001, when he sold a Palm Pilot for $200. Since then, he's cashed in on a few more items, including a camera and two sets of snowboarding boots.
"I have to have something I want to sell or something I want," he says.
What he wanted most recently was a linen suit. After searching, he discovered eBay had the best price: $45.
"I thought it would be fun to have a linen suit," Gencarelli says. "I think I got the better deal. But you've got to watch out because I don't think a lot of things are real."
Concern about the amount of apparel reproductions on the market keeps Gencarelli from updating his entire wardrobe. Instead he uses the site for more profitable ventures. Most recently, he referred eBay to a friend who wasn't able to use a $500 airline voucher he received during spring break. The voucher recently sold for $410.
"I don't think a lot of people use it because they don't know how easy it is," Gencarelli says. "Posting something takes five to 10 minutes."
The collector
Meanwhile, there are plenty of collectors who search eBay for specific items and have become masters at combing through the abyss.
Roger Shimomura is one such user. A working artist and former KU art professor, Shimomura has used eBay for nearly seven years, accumulating, among other things, racist Japanese memorabilia that fuels his artwork.
"I'm reaching 1,000 purchases and zero sales," he says.
Shimomura collects a wide range of items and is currently in search of high school yearbooks from World War II Japanese internment camps, which are next to impossible to find in stores.
"When I was first introduced to eBay, we had been going to antique malls," Shimomura says of himself and his wife. "We had been hearing that dealers had been holding their best stuff online."
After hours of experience, Shimomura considers himself an advanced collector, easily maneuvering the site's keyword search system. He logs about 30 minutes a day on eBay.
When asked about any bizarre stories, Shimomura says two people have sent pictures of his artwork with his purchase, and one knew his aunt.
He also found the artwork of a homeless Japanese artist in America. During a trip to New York, Shimomura had to see for himself. Today, the then-starving artist, Jimmy Mirikitani, is the star of a new Public Broadcasting Service documentary scheduled to air at the Tribeca Film Festival.
When it comes to eBay, Shimomura says, "there's no telling what happens."
Copyright 2018 The Lawrence Journal-World. All rights reserved. This material may not be published, broadcast, rewritten or redistributed. We strive to uphold our values for every story published.