Lawrence school officials want to know how many parents are willing to pay $240 a month for all-day kindergarten.
Plans call for polling parents during remaining kindergarten roundups.
"About 30 percent of the roundups have already taken place; those parents will be sent a letter," Supt. Randy Weseman said. "The rest will be asked to fill out a survey when they come in."
The surveys, he said, are designed to let the district know how many parents would be willing to pay for all-day kindergarten, if lawmakers do not include it in the state's K-12 spending plan.
"The $240 figure is what we would have to charge if the Legislature does nothing," Weseman said. "I don't think that's going to happen, but, at the same time, I can't predict what the Legislature is going to do."
If lawmakers agree to pick up part or all the tab, the monthly charge would be reduced or eliminated, he said.
"We think we can do it," Weseman said. "But the bottom line is we need to know how many people would be willing to participate in some kind of phased-in, fee-based system.
"We can't wait for the Legislature to get around to doing whatever it's going to do," he said.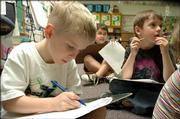 The Legislature reconvenes April 26.
"There's a lot of planning that has to take place beforehand. You don't just throw something like this together," Weseman said.
Parents also will be asked to pay the standard one-time enrollment fee - $112 - to cover instructional materials, technology and activity trip transportation.
The fees would not apply to students eligible for free or reduced-priced meals.
District plans call for offering all-day kindergarten in all 15 elementary schools. Parents could send their children for only a half-day, if they prefer.
Because four elementary schools - Hillcrest, Quail Run, Sunflower and Sunset Hill - do not have enough classroom space to accommodate their entire enrollments, cluster sites at New York and Langston Hughes would handle the overflow.
The district would provide transportation to the cluster sites.
Survey results, Weseman said, will be presented to the Lawrence school board May 8.
Copyright 2018 The Lawrence Journal-World. All rights reserved. This material may not be published, broadcast, rewritten or redistributed. We strive to uphold our values for every story published.