Washington — The immigrant demonstrators who flooded the streets of America's cities Monday ratcheted up pressure on lawmakers to complete an overhaul of the nation's immigration laws, while raising Republicans' frustration with President Bush for what they see as a muddled stand on the issue.
Bush, a former Texas governor, made immigration reform a signature issue after winning the presidency, advocating a guest worker program that would offer illegal immigrants and foreign workers access to the U.S. labor market. But for months he has refused to get involved in the legislative details while Republicans in the House and Senate fought among themselves and took very different approaches.
The House, reflecting the anger of conservatives' districts contending with a flood of illegal immigrants, passed legislation in December that would build hundreds of miles of fence on the southern border and declared illegal aliens felons, without offering them any lawful employment, much less a route to citizenship. The Senate is trying to a fashion broader solution to address both border security and the fate of 11 million to 12 million illegal aliens already here.
Poll results
But amid partisan finger-pointing, the Senate left town Friday for a two-week recess having failed to pass a bipartisan immigration compromise that appeared to have the support of a clear majority of the Senate. The deal also appears to have overwhelming support among voters. A new Washington Post-ABC News poll found 63 percent of those surveyed backed letting immigrants who have lived in the country a certain number of years apply for legal status and eventually become permanent citizens.
In contrast, only 14 percent favored a plan to let illegal immigrants stay and work for a limited number of years before having to return to their home countries - an alternative pushed by Sens. John Cornyn, R-Texas, and Jon Kyl, R-Ariz. Another 20 percent said illegal immigrants should be declared felons and offered no temporary work program, a stand that corresponds with the legislation approved by the House.
Many Republicans Monday continued to blame Senate Minority Leader Harry Reid of Nevada, who has used parliamentary tactics to block votes on Republican amendments and is making demands the GOP sees as unreasonable. But they could not hide their frustration with the president either.
Bush's role
When the delicate compromise was announced Thursday morning, White House officials had told Republican senators that Bush would appear on television that afternoon to strongly back the deal - a move advocates say could have bolstered support and deflected opposition from conservatives. Bush appeared in Charlotte, N.C., at 12:36 p.m., but his message was to exhort senators "to work hard."
"I'm pleased that Republicans and Democrats in the United States Senate are working together to get a comprehensive immigration bill," he said.
Advocates of the compromise were mystified that the man who first called for an immigrant guest-worker program would go no further.
"I think it's a fair statement to say the president has provided great leadership on the tenor of the debate, the tone of debate. Now it's time for him to provide more leadership on the substantive outcome," said Sen. Lindsey Graham, R-S.C.
And some conservatives believe Bush betrayed them by launching the debate, then letting Democrats such as Sen. Edward Kennedy (Mass.) and maverick Republicans such as Sen. John McCain (Ariz.) take control of it.
"This administration and the president's decision has had an enormous impact on the number of Hispanics who have committed crimes in this state," charged Rep. Pete Sessions, R-Texas, whose Dallas district saw as many as a half-million marchers Sunday but whose district office is fielding phone calls that overwhelmingly reject illegal immigrant rights. "The president is ignoring the rule of law."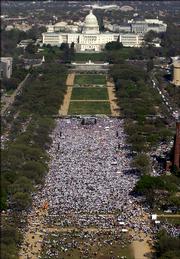 White House spokeswoman Erin Healey said she would not divulge internal discussions about what the president agreed to say last week, but she asserted that Bush has been "very engaged in this issue," reiterating his support for a comprehensive bill that tightens border patrols, toughens enforcement of laws outlawing employment of undocumented workers, and expands a temporary guest worker program both for illegal immigrants and foreign workers seeking access to the U.S. labor market.
Demonstrations
With Bush on the sidelines, it may be the demonstrators who drive the process forward.
As he watched tens of thousands of marchers in the streets of Phoenix, Rep. John Shadegg, R-Ariz., noted that the demonstration kicked off with a rendition of the national anthem amid of sea of American flags. Shadegg voted for the House bill. But he said Monday's orderly, patriotic marches should help the cause of lawmakers from both parties who would temper the House bill and add an avenue to legal employment for undocumented workers.
"Everybody is frankly astounded at the numbers of individuals who are willing to stand up and say they are here illegally," said Rep. Tom Price, R-Ga., whose suburban district is not far from 50,000 marchers who descended on Atlanta. "If nothing else can give a picture of why we need to act rapidly, it's this."
House Republicans seem to be softening their once-steadfast opposition to offering illegal immigrants lawful employment, or even citizenship.
"Personally my views won't change just because somebody takes to the street with a sign, no matter how many there are. I have my principles," said Rep. Jeb Hensarling, R-Texas, who backed the House bill. He added, however, that "a guest worker program is part of the solution, not part of the problem."
Even Rep. Tom Tancredo, R-Colo., the firebrand leader of the movement to crack down on illegal immigration, struck a defensive tone. "Today's rallies show how entrenched the illegal alien lobby has become over the last several years," he said. "The iron triangle of illegal employers, foreign governments and groups like La Raza puts tremendous pressure on our elected officials to violate the desires of law-abiding Americans and to grant amnesty."
In the new Washington Post poll, completed April 9, 50 percent of respondents said they trusted the Democrats to better handle the immigration issue, while 38 percent trusted Republicans. A third of Americans approve of the president's handling of the immigration issue, while 61 percent disapprove. Only his handling of gas prices showed lower approval ratings.
Three-quarters of those responding said the United States is not doing enough to secure its borders, but they appear to have rejected the argument that immigrants are an economic threat. Some 68 percent said illegal immigrants are filling jobs Americans do not want, compared to 29 percent who believe they are taking American jobs.
Copyright 2018 The Lawrence Journal-World. All rights reserved. This material may not be published, broadcast, rewritten or redistributed. We strive to uphold our values for every story published.