The Lawrence High-Free State rivalry meant so much to tennis player Stephen Donly that it put him to sleep.
"Last night, I went to bed early," Donly said, "just because I knew I wanted to play really good today."
From the looks of things, the senior wasn't the only Firebird who was preparing a little extra for Monday. Free State dominated the dual, completing a clean sweep of the singles and doubles matches on their home courts for a 9-0 win over the Lions.
"Anytime Free State and Lawrence High play, you go in thinking it's going to be a battle no matter what," Free State junior Jack Hull said. "I guess we showed up today."
Free State now has won all seven of the duals against LHS.
The team benefited from a fast start in doubles, responding to a challenge from coach Jon Renberger to gain the early momentum.
"I felt the last couple years - even though we've been successful in the dual - I didn't feel that we actually asserted ourselves well in the doubles. I thought Lawrence High actually took it to us the last couple of years," Renberger said. "My message was that we needed to set a tone today."
The Firebirds did just that, with the No. 1 doubles team of Keith Pipkin and Charlie Moffet coasting to an 8-2 victory over Ryan Robinson and Justin Isbell.
No. 2s Hull and Patrick Spurgeon took an 8-3 decision, while the No. 3 team of Donly and Drew Schelar won 8-1.
Meanwhile, LHS was its own worst enemy for most of the day - making coach Dick Wedel glad there were no scoreboards around.
Photo Gallery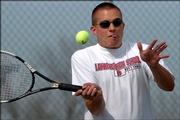 City tennis series
"If there were lights for unforced errors, we'd have burned out every one of the lights," Wedel said. "We'd have lit the board up with unforced errors."
Lawrence's struggles might have come from some rust, as the squad had three meets canceled last week because of the threat of storms.
The coach said he still expected more out of his team.
"I have a bunch of excuses I could pull out, but they're like socks," Wedel said, "everybody's got two and they're full of holes."
The closest call for Free State came in No. 4 singles. Lawrence's David Nieto jumped out to a 5-1 lead over Hull, who knew a big crowd was gathered behind him.
"Once I started to lose I felt extra pressure," Hull said, "but down the stretch it didn't really affect me."
The junior recovered quickly, taking an 8-6 victory and keeping Free State's perfect day intact.
Renberger watched the match closely but made the decision not to talk to Hull.
"I let him work himself through it," Renberger said. "He's only a junior, but he's a competitor."
Isbell also threatened in No. 6 singles, giving an all-out effort in an 8-5 setback to Schelar.
Pipkin (No. 1) and Donly (No. 4) both contributed perfect 8-0 victories in singles. In fact, Donly only lost one game in his singles and doubles matches combined.
"We're always talking about how cool it is that we beat them in this," Donly said, "because they're so good at everything."
Wedel agreed his team's early losses contributed to the later defeats.
"We got behind from the beginning and never got our heads back into it," Wedel said. "But that's one of those socks."
2005-06 Journal-World Cup
2005-06 Journal-World Cup
Standings
LHS: 10
Free State: 17
LHS varsity wins: 10
Free State varsity wins: 17
Note: The girls track and field teams recorded a tie during the Sunflower League meet.
Copyright 2018 The Lawrence Journal-World. All rights reserved. This material may not be published, broadcast, rewritten or redistributed. We strive to uphold our values for every story published.