Topeka — How about Oregon Trail Menninger Memorial Kaw River Deadbeat Dad's State Park?
The intersection of naming a park and trying to collect back child support has cast a spotlight on a political tussle between some legislators and state park officials.
Caught in the middle is a provision aimed at withholding hunting and fishing licenses from people who owe child support.
"I understand the process, but I can't deny that it's frustrating to see the underlying bill jeopardized by an unrelated issue," said Cindy D'Ercole, a lobbyist for the advocacy group Kansas Action for Children.
The child support bill and one that would name an undeveloped state park in Topeka are jammed together in legislation before a House-Senate conference committee.
Several House members want to name the park Oregon Trail Kaw River State Park. Senators are against putting Oregon Trail in the name because the park is not on the historic path. Earlier attempts had been made to name it Menninger Memorial Park after the Menninger Clinic, which shut down, moved from Topeka and donated the land to the state.
The standoff has produced some grins and groans in the Capitol, but D'Ercole is concerned about the child support measure, which sailed through the Senate but now is weighed down in a fight over the park name.
Photo Gallery
Kansas State Parks
The state ranks 34th nationally in enforcing court orders for child support, and thousands of children in Kansas are on welfare because their noncustodial parents do not pay up, according to welfare officials.
Wildlife and Parks Secretary Mike Hayden, a former governor of Kansas, said he just wanted the Legislature to name the park, currently referred to as Park No. 24, and allow the agency to get on with developing it.
More state parks are needed now, Hayden says.
"We have not made the investment we need to make" in the state park system, he said.
"People are seeing more and more needs in the parks. It hurts us when it comes to travel and tourism," he said.
Kansas ranks 49th in the nation in the amount of state and federal lands as a percentage of its total area.
And its 24 state parks don't stack up well against neighboring states. Missouri has 54 state parks; Oklahoma, 58; Colorado, 41; and Nebraska has 87 recreation areas.
Usually it is rural lawmakers who cross swords with Hayden over park development and new canoe access to the Kansas River.
Rep. Joann Freeborn, R-Concordia, chair of the House Environment Committee, said Wildlife and Parks should focus on the parks it already has and not expand.
"Do we develop a state park in the city of Topeka? I don't think we need to do that because the city of Topeka has wonderful parks. The state shouldn't compete with the city," Freeborn said.
She also said railroad traffic through the former Menninger property could make it unsafe for parkgoers.
And philosophically, she said, the state should promote more lease agreements with private landowners for hunting, hiking and river access.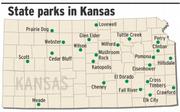 "Privately held scenic areas are really beneficial when they allow public access," she said.
Hayden, who grew up in the small town of Atwood in northwest Kansas, said he didn't understand opposition to expansion of the state parks system.
"It's a myth that public parks are a threat to the rural way of life," he said.
The Legislature probably will take up the park-naming and child support issues again when the wrap-up session starts April 26.
Copyright 2018 The Lawrence Journal-World. All rights reserved. This material may not be published, broadcast, rewritten or redistributed. We strive to uphold our values for every story published.