Lansing — While many college students across the country were jetting off to exotic locations on spring break, Ashley Aull was getting ready for the Miss USA Pageant.
Aull, 20 years old and tall, with blond hair and blue eyes, has been preparing for the national pageant April 21 in Baltimore since being crowned Miss Kansas USA 2006 in November.
As part of the first-place prize, the Miss USA Pageant winner will live in an apartment at Trump Towers in New York City during her title year. Donald Trump is the owner of the Miss Universe Organization that produces the pageant.
"If I win, I won't be coming back for a while," the Lansing woman said with a smile.
She lives with her parents, Melanie and Alex Aull, and her dogs, Muffin and Angel, in Lansing and is in her second year at Johnson County Community College.
Aull makes a conscious effort not to focus on the outcome of the pageant or her nerves.
"I try not to worry about the outcome, because if you do that you won't enjoy the experience," she said. "I just want to take every day as it comes and whatever happens, happens."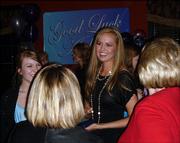 Aull has spent her time as Miss Kansas making appearances, which have included reading to a class at Leawood Elementary School and attending a Christmas party at Sunflower House, a child abuse prevention center in Shawnee.
Aull learned from reading to the class that "something so small to me can make a huge impact on someone else."
Since November, Aull has been training for the national pageant with a regimen that includes exercise, eating well and shopping. She does not diet but instead eats healthy meals that include lots of protein, but few carbohydrates and sweets.
Aull does six one-hour cardio workouts and four weight sessions a week with support through e-mails and phone calls from her personal trainer Brian Attebery, who lives in Oklahoma and trains other Miss USA contestants in the Midwest.
"I feel like my life is working out," Aull said, referring to her multiple workouts. "It's like when I get to Baltimore, I'll be able to take a break."
Her mother has helped by serving as her workout partner and shopping on the weekends for the numerous cocktail dresses, an evening gown and competition gown necessary for appearances before and during the pageant.
Aull arrived April 2 in Baltimore and will spend the time until the pageant learning the choreography for the opening routine and taping introductions in various parts of the city with other contestants. All participants will take a trip to New York City, where they will attend a Donald Trump book launch and appear on national television programs such as "Live with Regis and Kelly" and "Total Request Live."
The Miss USA 2006 Pageant will be broadcast live at 7 p.m. April 21 on NBC, Sunflower Broadband channels 8 and 14.
Copyright 2018 The Lawrence Journal-World. All rights reserved. This material may not be published, broadcast, rewritten or redistributed. We strive to uphold our values for every story published.