Coaches hope for senior leadership, regardless of the sport.
Lawrence High golf coach Ron Commons has it. Three seniors, Levi Oxford, Cameron Hershiser and Austin Rueschhoff, hope to propel LHS this spring.
"We're definitely senior-heavy," Commons said. "And I have been pleased, because they have played pretty well."
In its first tournament this spring, LHS placed fourth Monday at the Shawnee Mission South Invitational
"I was pretty pleased. We only finished three strokes back of third place and winning a medal," Commons said.
Commons had hinted at a rebuilding year, but after three weeks of practices and a strong showing in that first tournament, Commons is excited.
"I think we're a little better than I thought we might be," Commons said. "But we've still got some work to do."
Free State
After five seasons as a volunteer assistant, Matt Gudenkauf has taken over this spring as head coach at Free State. The Firebirds qualified one player for state last season, Nick Burkart, but he didn't even get to compete at state because of a "transportation mishap." Thus, he and the Firebirds are hungry.
"I know he wants another chance at going to state," Gudenkauf said. "I am very excited about this year."
Along with Burkart, fellow seniors Quinn Klutman and Travis Walsh will be counted on to lead the Firebirds.
"All three of these guys are capable of shooting very good rounds," Gudenkauf said. "The key is going to be getting all them to shoot well at the same time.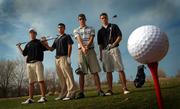 "I think we will be competitive. All it takes are four good scores, and we are very capable of four scores in the 70s."
Seabury Academy
The Seahawks won their Class 1A regional last year, but did not qualify for state because 1A and 2A schools were combined into one class. This year, however, the classes are separate - something that has given Seabury expectations of qualifying for the state tournament.
"That's the goal for us this year," coach Brian Clyne said. "I really feel like we can because it's just 1A schools, and we don't have to worry about the 2A schools."
Only two Seahawks return: seniors Adam Davis and Blake Phipps. Other than those two, Clyne has no idea how the rest of the lineup will shake out.
"Our problem is the fourth spot," Clyne said. "We got three pretty good golfers, but the fourth spot is up for grabs. We have two brand-new golfers in the fourth and fifth spot, and they are trying to get their game more consistent right now. If they can do that, we should be all right."
Kline's assistant coach is professional golfer Chris Thompson.
Veritas Christian
After placing third last year at the KCAA state tournament, a down year could be in store for the young Eagles, who count two seniors and two sophomores. The rest are seventh-, eighth- and ninth-graders who never have played on a golf team.
"We don't have real high expectations this year," coach Mike Bartlow said. "We're just trying to get the program started."
Last year was the program's initial campaign, and the two seniors, Mark Randtke and Bartlow's son, Andrew, will be counted on heavily if the team wants a state repeat.
"They were two of our main four from last year, and they are starting to play better," Bartlow said. "They are inexperienced. Last year was the first year they were on a golf team, so they are starting to grasp the idea of consistency."
Copyright 2018 The Lawrence Journal-World. All rights reserved. This material may not be published, broadcast, rewritten or redistributed. We strive to uphold our values for every story published.