Mercades Beckum and Shaunta Thompson shake their heads when they consider school without access to junk food and soda.
"We'd have some problems with that," said Beckum, a Lawrence High School junior. "That's like saying you have no freedom to eat what you want to eat."
But that's the intent of federal legislation introduced Thursday calling for updated nutrition standards for all foods sold at schools - whether in the cafeteria, in vending machines or at school stores.
The legislation, backed by a bipartisan lineup including Sen. Tom Harkin, D-Iowa, could wipe out the sale of such foods as french fries, ice cream, cookies and pastries.
School lunches already have nutritional standards. But the proposal broaches new territory, applying to all foods available on school grounds throughout the school day, with the exception of food at school parties, classroom celebrations and fundraisers, according to Harkin's office.
It would be a change for the better, said Jennifer Reilly, a senior nutritionist with the nonprofit Physicians Committee for Responsible Medicine.
Reilly said more attention also needs to be paid to school lunches, which look like fast food, though often they're prepared with healthier ingredients.
"Even if they know it's low-fat cheese, they're still just learning to eat pizza," Reilly said.
Sue Morgan, a Lawrence school board member, said she hadn't seen the particulars of the legislation, but she thought the matter could be better addressed at the local level.
"Talk about micromanaging," she said. "I don't understand the need to legislate this at the federal level."
U.S. Rep. Jim Ryun, R-Kan., said Thursday that he wasn't sure whether a federal mandate was the way to improve kids' eating habits.
"I certainly do support children having access to healthy food alternatives for lunch, but school issues are best addressed at the local level," he said.
In Lawrence public schools, vending machines aren't available to elementary students. The machines are on after school in junior high schools and all day in high schools. District policy calls for at least 50 percent of the drink offerings in machines to have higher nutritional value than soda.
Paula Murrish, the district's food services director, said the district is working on a school wellness policy that is expected to go to the school board this month. Details are being determined now.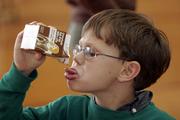 Murrish said the issue of child health and obesity often targets schools, but the issue is broader than that and requires community participation.
"Schools alone cannot solve the nutritional problems of children," she said.
Myron Melton, principal at West Junior High School, said he favors making more healthy foods available to students and teaching them how to make good choices, rather than a situation that would remove unhealthy options altogether.
"The goal, I think, would be for kids and adults to learn how to manage that on their own," he said. "It's more than just a school skill. It's a life skill. Kids and adults alike learn how to manage their diet, manage their nutrition and learn how to make those decisions."
But LHS junior Shaunta Thompson, who'll grab a candy bar when she feels like it, said the legislation wouldn't go over well with students.
"It's the good stuff," she said of junk food. "Everybody would have problems."
Copyright 2018 The Lawrence Journal-World. All rights reserved. This material may not be published, broadcast, rewritten or redistributed. We strive to uphold our values for every story published.