In 1988, Douglas County was the center of one of the biggest epidemics of mumps in recent American history. Now officials have a wary eye on a new outbreak.
Three new local mumps cases were confirmed Tuesday by health authorities, bringing the total number to nine in recent weeks. That doesn't approach the late-'80s epidemic of 269 cases in and around Lawrence, but it doubles the normal annual statewide numbers.
The local diagnoses might be related to an outbreak in Iowa, where 300 people have contracted the illness since early March.
"We're in the process of looking at whether these are the same as those cases in Iowa, if it's connected to that strain," said Sharon Watson, a spokeswoman for the Kansas Department of Health and Environment. "With the mobile society we have today, it's easy for those cases in Iowa to affect neighboring states."
The cases announced Tuesday:
¢ One laboratory-confirmed case in a 19-year-old Kansas University student.
¢ One probable case in a second 19-year-old KU student.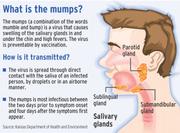 "The student with the confirmed case tested positive over spring break while at home in Illinois, has since recovered and returned to campus," Dr. Patricia Denning, of KU's Student Health Services, said in a written statement. "We are waiting for test results for the second student, who is under a doctor's supervision."
¢ One probable case in a "school-age child." The Lawrence school district on Tuesday said the child was a student at New York School.
Dr. Christopher Penn at Lawrence Memorial Hospital said Tuesday he had been involved in some initial diagnoses.
"They're doing fine," he said of the mumps patients.
Hospital uncommon
Mumps is a viral infection of the salivary glands that is passed through saliva and causes swelling in the jaw, as well as headaches and fever. Health officials recommend frequent hand-washing and other hygienic measures to prevent its spread.
In rare cases, the virus can cause meningitis and encephalitis in victims. Usually, however, it causes more discomfort than danger.
"It's a viral illness, and for those who are experiencing the discomfort we wouldn't want to minimize it," said Lola Russell, a spokeswoman for the federal Centers for Disease Control and Prevention. "But hospitalizations are uncommon."
The Iowa outbreak is similar to a strain of the virus that peaked during 2005 in the United Kingdom, Russell said. Officials don't know why it appeared in the U.S., nor why it is spreading.
A total of 17 cases were diagnosed in Kansas during a 10-year period ending in 2004.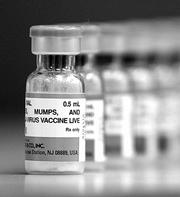 "Diseases tend to be cyclical, and if they've been silent awhile it's not uncommon for them to pop up for a year or two before receding again," Watson said.
Not 100 percent
State law requires children to receive a mumps-measles-rubella vaccination in their first year, and officials urge a second by kindergarten. Most colleges, including KU, require incoming students to have the second shot.
But the vaccine, officials said, is only 95 percent effective. And Sheryl Tirol-Goodwin, with the Douglas County Health Department, said it appeared that the local students had received the second shot.
"There is that small percentage that you could still get it, because these vaccines are not 100 percent effective," she said.
Barbara Schnitker, director of nursing for the Douglas County Health Department, was part of the team that battled the last big mumps outbreak here between October 1988 and April 1989. She doesn't want to see a repeat.
"I think it just started wearing itself out," she said of why that outbreak ended. "The prime months tend to be winter and spring, so as we got into spring, it just ended."
Copyright 2017 The Lawrence Journal-World. All rights reserved. This material may not be published, broadcast, rewritten or redistributed. We strive to uphold our values for every story published.