Topeka — More Kansas children are getting their immunization vaccines on time, but the state still lags behind the national average, officials reported Tuesday.
"This is really something to celebrate," Dr. Howard Rodenberg, director of the Kansas Department of Health and Environment's Division of Health, said of the increased immunization rate.
But Rodenberg said the state cannot be content until it surpasses the national average for immunizing children from measles, mumps and other preventable diseases.
Kansas' immunization rate for children ages 19 months to 35 months in 2004 was 77.5 percent, according to the National Immunization Survey by the Centers for Disease Control and Prevention. The national average was 80.9 percent.
The state posted an immunization rate of 66.8 percent in 2002, when the national rate was 74.8 percent, and 75.7 percent in 2003 as compared with a national rate of 79.4 percent.
Rodenberg said it was encouraging that the difference between the state and national rate has decreased. "Certainly, we are heartened to see that gap shrink," he said.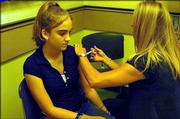 Comparisons unavailable
Kansas' rate over the past several years has been among the worst in the nation, but state-by-state comparisons weren't released Tuesday by the CDC.
Rodenberg said part of the reason for the increased rate in Kansas is the "Immunize and Win a Prize" campaign, which provides prizes to any Kansas child and his or her parents each time the child receives immunizations from birth to age 2.
The prizes include a bottle of children's Tylenol, a digital thermometer, a beanie bee and stickers.
In addition, KDHE has recommended an accelerated immunization schedule for the most comprehensive series of vaccines, and the state is implementing a statewide immunization registry that will provide a centralized database on children's vaccine schedules.
"Kansas has taken an aggressive approach to ensure immunization rates improve," KDHE Secretary Rod Bremby said.
Rodenberg said the full effect of some of the steps by Kansas may not be seen for years.
"More children will be protected from potentially devastating illnesses," he said.
Local rates high
At the Douglas County Health Department Clinic, officials said a large majority of children are up-to-date on their vaccines.
"In the last six months or so, we have had an 83 to 89 percent coverage rate for kids 24 months to 35 months of age," DeeAnne Schoenfeld, a registered nurse with the department, said.
She said the department has a computer system that provides reminders and notices to parents when children are due for vaccines. And, she said, the "Immunize and Win a Prize" campaign has helped. "Every little bit can help," she said.
The standard measurement for vaccination coverage is how many children between 19 months and 35 months old have received a combined vaccination series called 4-3-1-3-3. This includes doses for diphtheria, pertussis, tetanus, polio, measles, mumps, rubella, haemophilus influenza type B and hepatitis B.
Rodenberg said nearly 97 percent of Kansas children are current on their vaccines by the time they start school, but children need their immunizations on a timely basis to avoid illnesses.
"As a doctor, it was always difficult to see children struggling with an illness that could have been prevented through vaccination," he said.
Copyright 2017 The Lawrence Journal-World. All rights reserved. This material may not be published, broadcast, rewritten or redistributed. We strive to uphold our values for every story published.