Crystal Viurquez grew up in East Garden Village, the largest trailer park in Garden City.
Some called it the ghetto. Some called it Little Saigon.
"It was hard, but I always had food on the table," the Kansas University student recalled of her upbringing by parents who worked in Garden City's meatpacking industry.
Viurquez and others spoke about their lives Tuesday during an event at KU celebrating Student Labor Week.
The meatpacking industry - memorably chronicled in Upton Sinclair's novel "The Jungle" - moved out of the cities in the 1960s and 1970s, settling in small towns and transforming them.
Don Stull, a KU anthropology professor, researches the altered communities.
"It's not the kind of industry that most communities would want," he said.
Stull said the communities struggle with strains on schools, health care services, law enforcement and emergency services. High employee turnover at the plants creates a constant churn of residents.
"You have revolving doors through the community," he said. "You don't just have a spurt of growth and then just everything settles down. You have constant growth fatigue."
He said the industries continued to flourish as most Americans take for granted the low cost of meat and the cheap labor provided by immigrants.
"I don't think I'm going to work myself out of business as a critic of the industry anytime soon," he said.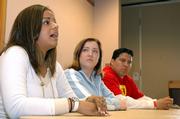 Viurquez and fellow students Leo Prieto and Rebecca Crosthwait described growing up in their meatpacking towns.
Viurquez's parents crossed the border as illegal immigrants before she was born. She doesn't recall the decade they spent fearing deportation. By the time she was old enough to understand, her parents had been granted amnesty during the Ronald Reagan administration.
Viurquez lived in tight quarters that only grew more cramped when extended family members came to stay. She described her mother's multiple injuries in the meatpacking plant.
But, when she looks back, Viurquez also recalls kids playing, music and birthday parties in the trailer park.
"You were free to be yourself," she said.
Now on a scholarship from the Bill and Melinda Gates Foundation, Viurquez said the hardships of her past have made her achievements sweeter.
Crosthwait, a KU graduate student, was raised on a farm in Fort Morgan, Colo. She taught English as a second language in a packing plant for four years.
"You meet wonderful people who want the best for their families," she said. "They just have horrific jobs."
Prieto, a KU law student, grew up in Garden City. He thinks young people should be required to visit the meatpacking plants to see what their future could hold if they don't aim higher.
"We have this cycle that needs to change," he said.
Prieto said he didn't have an attorney role model growing up, but he had good parents, teachers and coaches.
Tuesday's event coincidentally follows massive protests across the country in opposition to proposed federal restrictions on immigration.
"For people to mobilize and organize so quickly is just amazing," Prieto said. "They are getting their point across. : We're uniting, and we're showing people that we're together on this."
Copyright 2018 The Lawrence Journal-World. All rights reserved. This material may not be published, broadcast, rewritten or redistributed. We strive to uphold our values for every story published.