She liked them before, but Allie Hock has a whole new respect for her younger teammates now.
"I love the freshmen," the Free State junior said with a grin. "They're a very talented group."
The ninth-grade contingent showed it Wednesday, keying a frantic Free State rally and an improbable 7-6 victory over Shawnee Mission East in the nightcap of a doubleheader. Free State won the opener, 5-0.
Trailing 6-1, the Firebirds scored six runs in the bottom of the seventh with the comeback's start, middle and end all coming from players not yet enrolled at Free State.
Freshman Lexi Smith completed it walk-off style, lining a single to right to score Brooke Abney for the game-deciding run.
"With these girls, I think they're going to surprise me a lot this year," Free State coach Pam Pine said. "They really have a lot of personality, a lot of desire."
That fire started with freshman Kelsey Leinmiller-Renick, who lined a one-out single to center.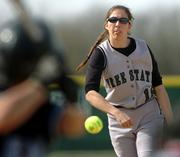 Livi Abney followed with a shot over the shortstop, and freshman Rosie Hull picked on the first pitch, smashing it to center.
After a wild pitch scored one, Hock received the ultimate compliment from East coach Jennifer Horn.
Because the junior was 5-for-6 at the plate on the day, the Lancer coach decided to intentionally walk her for the second time despite the fact a home run would have only made it 6-5.
"I was like, 'Oh great, here it comes again,'" Hock said. "It's still humbling because whatever helps the team ... it's still another runner on base."
Her walk proved to be valuable, as Kayley Lane walked and Abney one-hopped the left-field wall with a two-run double to make it 6-5.
Hannah Somers' bunt was thrown away by pitcher Kristen Crawford, tying it and putting runners on second and third for the freshman Smith.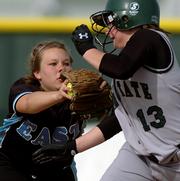 "I was really nervous, but I knew I wanted to do it," Smith said. "I knew I could do it."
The third baseman came through with a two-strike count, contributing the fifth Firebird hit of the inning.
"Coach (Karli) Tracy got us in the huddle before the last inning and was like, 'You guys have to show us you want it right here. This is your time to do it,'" Hock said. "Everybody just stepped up to the plate, and we got it done as a team."
In the opener, pitcher Summer Mulford - who also picked up the game two win in relief - recorded a complete-game shutout, striking out five.
Hock reached base seven times in her eight plate appearances. Her only out came on a line drive to short in game two. Livi Abney added four hits in the twinbill, while Brooke Abney went 3-for-4 with two doubles and a pair of RBIs in the nightcap.
Free State (4-0) will travel Thursday to SM Northwest.
Copyright 2018 The Lawrence Journal-World. All rights reserved. This material may not be published, broadcast, rewritten or redistributed. We strive to uphold our values for every story published.