Washington — Rep. Tom DeLay, R-Texas, will soon be gone from Capitol Hill, but Republicans anxious about November's elections still face a pressing political question: Will the ethics woes that he came to symbolize disappear with him?
Three days after a former top aide reached a plea deal - turning state's witness in a corruption inquiry - DeLay declared that he would end his bid for a 12th term, give up his House seat by mid-June and change his legal residence from Sugar Land, Texas, to a condo in the capital's Virginia suburbs, where he hopes to continue his work pushing the conservative cause.
Many Republicans expressed hope Tuesday that DeLay's decision to resign his House seat would help them squelch Democratic charges that the GOP has created a "culture of corruption" in Washington.
But even with the Texan removed as the poster boy for such attacks, a hostile campaign environment - including a federal probe likely to keep the ethics issue alive - confronts Republicans heading into the midterm congressional elections.
The Democrats need to gain 15 seats to take control of the House, and most GOP strategists doubt their party is that vulnerable. But they concede losses in both the House and the Senate, in which the Republicans have a six-seat majority, are likely.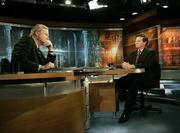 The ongoing Justice Department investigation of influence peddling in Washington - which already has led to guilty pleas by former GOP lobbyist Jack Abramoff and two former DeLay aides - is a political powder keg that could explode with new indictments at any time.
"The fallout from Abramoff has not even begun," said Amy Walter, a political analyst with the nonpartisan Cook Political Report. "There are certainly more shoes to drop."
In pleading guilty to various corruption charges, Abramoff and the two former DeLay aides agreed to cooperate with the probe. Many legal observers believe the case federal prosecutors are building will lead to the indictment of one or more members of Congress.
DeLay's decision to give up his House seat culminates a stunning fall from the pinnacles of power.
Serving as House majority whip and then majority leader, he became known over the last decade for his hard-nosed approach to politics - he led the push to impeach President Clinton - and his ability to keep GOP lawmakers united behind the party's legislative agenda; he had quickly earned the nickname "The Hammer."
But his style and tactics increasingly generated controversy. In 2004, he was rebuked by the House ethics committee on three separate matters. Last September, he was forced to step aside as majority leader after he was indicted in Texas on campaign-finance related charges. And his once-close relationship with Abramoff kept him in the spotlight as the scandal surrounding the lobbyist mushroomed.
DeLay has insisted he will be cleared of the charges against him in Texas and will not be indicted in the Abramoff probe. But as he publicly announced his resignation Tuesday, DeLay acknowledged his concern that his notoriety would hurt the GOP in November's vote - both in his suburban Houston district and nationwide.
"My loyalty to the Republican Party, indeed my love for the Republican Party, has played no small part in this decision," he said.
He predicted that in the long run, Democrats also would rue his departure from office.
"As difficult as this decision has been for me, it's not going to be a great day for liberal Democrats, either," he said.
Copyright 2018 The Lawrence Journal-World. All rights reserved. This material may not be published, broadcast, rewritten or redistributed. We strive to uphold our values for every story published.