Lawrence high school students will not be subjected to Breathalyzer tests before Saturday's homecoming dances.
"We won't be doing Breathalyzers," said Rick Gammill, head of a school district task force charged with developing an alcohol-testing policy.
Gammill said he doubted the district would have the equipment in place before the start of the spring semester.
"We're still working on the policy," he said. "We want to make certain it's a good policy: one that does what we want it to and one that's enforceable."
But because of recent concerns about students being intoxicated at dances, students will be subjected to additional scrutiny at the homecoming bashes on Saturday.
"We'll have four uniformed police officers instead of the usual two," said Mike Hill, an assistant principal at Free State High School.
School officials ordered a review of the district's alcohol-testing policy earlier this month after reports of widespread drunkenness at Free State High School's start-of-the-fall-semester Firestarter Dance.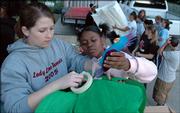 Afterward, three Free State students were suspended for being drunk at the dance.
Three weeks later, four Lawrence High School senior boys were suspended for being intoxicated at a Sept. 15 football game in Shawnee Mission.
"The students had alcohol in their bodies; they were Breathalyzed by the Overland Park police," said LHS Assistant Principal Matt Brungardt.
In keeping with the district's current policy, the students were suspended for three days. Their parents were notified.
The students were given the option of having their suspensions reduced to one day if they attended counseling sessions for alcohol and drug abuse.
Students caught a second time are subject to a five-day suspension, which, if they agree to counseling, may be reduced to three days.
Three of the four suspended students opted for the one-day suspension. "It was their first offense," Brungardt said.
The fourth student, he said, refused.
"It was his second offense," Brungardt said.
For a third offense, students are subject to a mandatory five-day suspension and a possible suspension for the remainder of the school year.
'Good exchange'
How increased scrutiny will affect dance attendance remains to be seen.
"We're probably going to lose some kids who are upset they can't drink," said Marti McDonald, an LHS senior and a member of the school's student council. "But at the same time, we're going to gain others. I think it'll be a good exchange."
The dances are sponsored by each high school's student council.
Several student council members disputed reports that hundreds of students had been drinking or were drunk at the Firestarter Dance.
"When I heard that, I was shocked," said Free State senior Blake Thames, student council treasurer. "I was there, and I didn't see anything like that."
"I think what happened was that some people looked drunk because it's a dance - you're dancing, you're sweating, your hair is plastered on the side of your head, you're acting crazy," said Zack Morgenstern, senior class president at Free State. "That's what you do at a dance, but it doesn't mean you're drunk."
Jane Rock, faculty adviser to Free State's student council, said she, too, found some of the claims difficult to believe.
"I worked the dance, and I would never say two-thirds of the people there were drinking - like it said in the Journal-World," Rock said. "I worked the door, I met every person who came in, I walked through the crowd, and I didn't see anything like what was in the paper."
After the dance, Rock said she and others on the clean-up crew found no evidence of drinking. "No cans, no bottles," she said. "Nothing like that."
But other students at the dance had differing recollections, which were partly the basis for the Journal-World's initial article.
Students and other sources told the newspaper that there had been widespread drinking, that one student had vomited in a trash can and that drinking was common at the high school dances.
School officials, acting on those reports, announced the new, stricter vigilance measures.
Lawrence, Free State parades set for today
Lawrence and Free State high schools' fall homecoming parades will be today, each beginning at 2:30 p.m. The Free State procession will begin just south of Bob Billings Parkway and Wakarusa and proceed north on Wakarusa to the school. Lawrence High School's parade will begin at 11th and Massachusetts streets and head south on Massachusetts to 19th St., where it will turn west to the LHS parking lot. The LHS parade will include a stop at 17th and Massachusetts, during which the band will perform for residents at Babcock Place. Each school's homecoming dance will be from 8 p.m. to 11 p.m. Saturday.
Copyright 2018 The Lawrence Journal-World. All rights reserved. This material may not be published, broadcast, rewritten or redistributed. We strive to uphold our values for every story published.