Topeka — Supporters of the Taxpayer's Bill of Rights started a statewide bus tour Tuesday, but opponents warned Kansans to steer clear of the budget-limiting proposal.
"The Kansas people should have an opportunity to be part of a citizen budget and not a bureaucratic budget," Rep. Brenda Landwehr, R-Wichita, said in support of TABOR.
But Maren Turner, state director of AARP-Kansas, said, "While TABOR stands for the pleasant-sounding Taxpayer Bill of Rights, it is in fact a proposal that would be ruinous to the Kansas quality of life."
TABOR is a proposed constitutional amendment that would require voter approval of state tax increases, limit state spending growth to the inflation rate and refund taxes above that amount.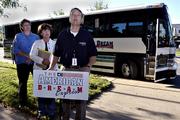 To be adopted, the amendment would need two-thirds approval in the state House and Senate, and then be OK'd by voters in a statewide election.
Supporters hope to get the measure on the ballot in November 2006, although they concede there may not be two-thirds support in the Legislature to do that.
Alternatively, they have talked about possibly pushing for a new state law that would make it more difficult for the Legislature to increase taxes by requiring super majorities to raise rates.
Lines are drawn
On Tuesday, in competing news conferences and numerous informational packets, one thing was clear - the campaigns for and against TABOR had started and the sides were clearly drawn.
On the pro-TABOR side were conservative legislators, conservative political consultants, anti-tax groups and several business organizations. They said the limit on state spending is needed to boost the economy and protect taxpayers.
On the anti-TABOR side were advocates for social services and education, including the Success by 6 Coalition of Douglas County, labor groups and several religious organizations. They said the measure would result in cuts to schools, services for the elderly and disabled, and public safety.
Colorado model
The amendment is patterned after one approved by Colorado voters in 1994. This year, however, facing a budget crisis, Coloradans are going to the polls to change the amendment by suspending the law for five years.
Gov. Kathleen Sebelius said the problems in Colorado should be instructive to Kansans.
"The Colorado experience has indicated that they have found it to be overly restrictive in terms of their ability to respond to growing population, higher education needs, parks and recreation.
"In fact, the governor of Colorado, who was at one point a leading proponent, is now leading the charge to change the amendment dramatically. So it is wise for us not to just look at the theory but to look at the application," she said.
Hitting the road
At the kickoff of the pro-TABOR bus tour, Landwehr and Alan Cobb, director of the Kansas chapter of Americans for Prosperity, were met by anti-TABOR protesters carrying signs, such as TABOR=10,000 Fewer Teachers, and TABOR=50,000 Kids With No Health Insurance.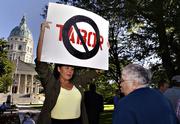 At one point, several in the crowd shouted at Landwehr as she tried to speak. Landwehr asked them to be quiet and they did.
Landwehr said those opposed to TABOR represented special interest groups with paid lobbyists who were always asking the Legislature for more money.
The bus tour, dubbed the "American Dream Express," planned stops in 23 cities and towns over four days. Partners in the effort include Americans for Prosperity, Kansas Taxpayers Network, Americans for Tax Reform, National Taxpayers Union, Concerned Women of America, the Wichita Independent Business Assn., and KSSmallBiz.com.
Later at a news conference, opponents of TABOR announced the formation of a new group called Coalition for a Prosperous Kansas that would work to defeat the measure.
Among others, this group included AARP-Kansas, Kansas chapter of the American Academy of Pediatrics, Big Tent Coalition, Kansas Action for Children, Kansas AFL-CIO, Kansas Association of Local Health Departments, Kansas Association of Public Employees, Kansas Association of School Boards, Kansas Families United for Public Education, Kansas Health Consumers Coalition, Kansas National Education Association, United Methodist Church-Kansas and Inter-Faith Ministries.
Bus schedule
The following is the bus schedule for the tour of supporters for the Taxpayer's Bill of Rights. On Tuesday, the bus was scheduled to stop in Topeka, Manhattan, Salina, Russell, Hays and Colby.
¢ Today: 9 a.m.: Garden City 10:30 a.m.: Sublette 11:30 a.m. to 1 p.m.: Liberal 2:30 p.m. to 3:15 p.m. Dodge City 5 p.m. to 6 p.m.: Great Bend
¢ Thursday 9 a.m.: Hutchinson 10:30 a.m.: Wichita 11:45 a.m.: El Dorado 2:45 p.m.: Independence 4 p.m.: Chanute 5:10 p.m.: Parsons 6:30 p.m.: Pittsburg
¢ Friday 9 a.m.: Fort Scott 11 a.m.: Paola Noon to 1 p.m.: Olathe 1:30 p.m.: Shawnee 3 p.m.: Leavenworth
Copyright 2018 The Lawrence Journal-World. All rights reserved. This material may not be published, broadcast, rewritten or redistributed. We strive to uphold our values for every story published.