Lawrence has been named one of the 100 Best Communities for Young People by America's Promise, the national organization founded by retired Gen. Colin Powell, the former secretary of state.
"This really speaks volumes for our community," said City Commissioner Sue Hack, a former teacher. "I really do believe that Lawrence is a community that feels a special responsibility to young people."
The judges ranged from former baseball great Cal Ripken Jr. to former U.S. Secretary of Health and Human Services Donna Shalala. They praised Lawrence's unique United Way Center, which provides coordination and joint office space for 23 social service providers. They also noted the large number of boards and organizations that include student representation.
Lawrence officials on Monday said many local organizations deserved credit for the award. Frequently mentioned were local schools, the Success by Six program, classes by the Lawrence Arts Center, the after-school program run by Big Brothers and Big Sisters of Lawrence and Bert Nash's WRAP, or Working to Recognize Alternative Possibilities, program.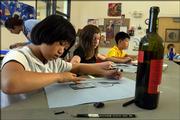 "The reason that the community has been successful in the past is that through our words, actions and funding choices, we have always made children a high priority," said Margaret Perkins-McGuinness, manager of the Roger Hill Volunteer Center, which helped prepare the award nomination.
Lawrence was selected from about 1,500 applications. The city will receive a $2,000 stipend to send two representatives to a Nov. 2 national conference in Washington, D.C., which will highlight programs used by winning communities.
Several community leaders said the award also should serve as a reminder of the importance of meeting future challenges related to youth services. David Johnson, chief executive of the Bert Nash Community Mental Health Center, said continuing the WRAP program was a prime example.
The program, which places mental health professionals in all of the city's public schools, will lose its grant funding at the end of the school year. That will leave Bert Nash searching for approximately $900,000 a year to continue the program.
Hack said she was confident that area governments and members of the public would step up to the funding challenge.
"With programs like this, we're paying money upfront to prevent huge expenses down the line - so it makes sense from that standpoint," Hack said. "Plus, we're helping children, so it definitely makes sense from that standpoint, too."
Other Midwest Honorees
Other Midwest communities that were included in the first-ever list of the 100 Best Communities for Young People by the America's Promise organization: ¢ Greater Kansas City metropolitan area ¢ Salina ¢ Springfield, Mo. ¢ St. Joseph, Mo. ¢ Boys Town, Neb. ¢ Buffalo County, Neb. ¢ Denver ¢ Loveland and Fort Collins, Colo. ¢ Oklahoma City
Copyright 2018 The Lawrence Journal-World. All rights reserved. This material may not be published, broadcast, rewritten or redistributed. We strive to uphold our values for every story published.