Curt Clinkinbeard purports to have culled centuries of economic modeling, volumes of marketing theory and three decades worth of personal experience into nine immutable laws of business growth.
And from the need to focus on growth customers (No. 1) to the importance of practicing coordinated growth planning (No. 9), Clinkinbeard is utterly certain that his ideas work.
Now he's hoping the marketplace will bear him out.
"I'm practicing what I preach," said Clinkinbeard, a first-time author who self-published his thoughts in "Hypergrow Your Business: Double, Triple or Quadruple Any Business by Harnessing the Natural Laws of Growth."
"I have invested a significant amount of money in this project. I'm definitely out on a limb, but, like all entrepreneurs, you take risks and there's dollars involved."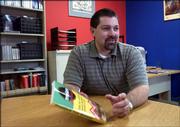 Clinkinbeard, regional director for the Kansas University Small Business Development Center, is selling the book through his own Web site - www.hypergrow.com - and on www.amazon.com. While he hasn't sold any copies yet, he's optimistic that he'll be able to one day reach the shelves of Borders, Barnes & Noble and other megaretailers by following law No. 4: "Form Productive Linking Relationships."
Being director of one of the country's 1,100 small-business centers - who together have 4,000 counselors working with 1.5 million entrepreneurs and other small businesses each year - has its advantages.
"The kind of work that we do with clients is extremely confidential, but you do notice trends," said Clinkinbeard, whose clients in Lawrence together have 700 employees. "If you talk to 300 entrepreneurs over a year, you notice patterns. Being able to write about it, I hope creates an opportunity to help a lot more people."
Proceeds from book sales through the Lawrence center will go back to the center, 734 Vt., Clinkinbeard said.
Business seminar
Curt Clinkinbeard, regional director for the Kansas University Small Business Development Center, will conduct a seminar, "Hypergrow Your Business," from 1 p.m. to 5 p.m. Oct. 13 at the Lawrence Chamber of Commerce, 734 Vt. The seminar will review nine "unavoidable, always-present laws" that affect the growth of any business, Clinkinbeard says. The $60 registration fee - $70 for walk-ins - includes a copy of Clinkinbeard's new book, and seminar proceeds benefit the development center. For more information or to register, call (785) 843-8844 or e-mail maggie32@ku.edu.
Copyright 2018 The Lawrence Journal-World. All rights reserved. This material may not be published, broadcast, rewritten or redistributed. We strive to uphold our values for every story published.