Doubles domination might have carried Free State High to the lead over Lawrence High on Monday, but it was singles survival that allowed the Firebirds to take a 6-3 victory in the city tennis dual.
And, though she didn't even know it, Free State's No.1 singles player, Andrea Koch, made it so all the Firebirds could breathe more easily.
After Free State won all three doubles matches, Lawrence High's Kylie Fritzel and Meredith Bush came away with singles victories, cutting the deficit to 3-2.
Meanwhile, after taking the first two points convincingly, Koch found herself in a dogfight with Lawrence's top singles player, Emily Thompson.
"I started out really aggressively, and then she just kept hitting everything back," Koch said. "I just had to resort to trying to get everything back and not hitting with pace."
With the match tied at 7, Lawrence found itself a tiebreaker away from a tie score.
But Koch came through to take the pressure off the Firebirds.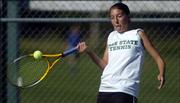 With the tiebreaker tied at 5, she hit a winner down the line, then watched a Thompson stroke sail wide to pick up the tough victory.
"She knows how to control her emotions," Free State coach Jon Renberger said, "and as frustrated as she was, she was able to collect herself and play smart."
Lawrence coach Dick Wedel remained pleased despite the loss, giving Thompson a hug and calling it her "best match of the year."
"She's a gutsy girl," Wedel said. "She doesn't have power, but she's got tenacity. And I'll take tenacity."
Julia Guard clinched the team victory with an 8-0 triumph over Lily Boyce.
As funny as it sounds, Renberger said his team was able to overcome a home-field disadvantage.
"When a player feels as if they're expected to perform well and win, especially for a teenager, that's tremendous pressure," Renberger said. "It adds so much anxiety to the experience. I think we overcame that a little bit, but I could still see that having so many eyes upon them is not something they're accustomed to."
Guard and Joanna Loewen started the meet off with an 8-5 victory in No. 1 doubles. Lauren Kimball and Meghan Bock picked up a victory in No. 2 doubles (8-5), and Koch teamed with Leigh Luina (8-1) for a No. 3-doubles triumph.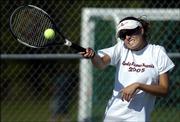 Lawrence High salvaged a 3-all split in singles play, with tiebreaker victories from Fritzel and Lauren Kelly.
Fritzel rallied from a 6-2 deficit to take the match, 8-7 (7-4), over Free State's Holly Maygers.
"We spent less time on singles, so that just shows what kind of job I did coaching," Wedel quipped. "We spent more time on doubles, and they didn't play good doubles today."
Renberger said the team victory - Free State's fifth in a row over Lawrence High - was a great accomplishment for his players.
"They know, at the end of the season, there's really going to be three things that people focus on more than anything else: How'd you do against Lawrence High, where'd you finish at league, and did anybody qualify for state?" Renberger said. "There's one out of three, and we performed well."
FSHS surges ahead
Three events into the Journal-World Cup competition, Free State leads Lawrence High, 2-1. The winner of each head-to-head meeting - and all postseason meetings - between the city's two biggest high schools earns one point in the standings. The school with the most points at the end of the school year wins the Journal-World Cup trophy.
Copyright 2018 The Lawrence Journal-World. All rights reserved. This material may not be published, broadcast, rewritten or redistributed. We strive to uphold our values for every story published.