Twice a week, a group of young people sits around a table and reads one another's writing, scratching comments in the margins.
Some dream of becoming novelists. For now, they are doing their part to contribute to Kansas University's literary scene.
These budding writers, including members of KU's Student Writers' Assn., are launching a literary journal dedicated solely to the written word.
"It's a very stimulating idea that will just make the whole writers' community grow," said Tom Lorenz, associate chairman of the KU English department.
Senior Nate Barbarick and junior Natalie McAllister are spearheading the effort. They're just getting started.
KU already has Kiosk, an art and literature magazine. But that's not enough, these writers say.
"(Kiosk) is more focused on graphic design and print media," said Barbarick, Kiosk's fiction editor. "The literature aspect is kind of secondary."
The new group is aiming for a free journal of about 100 pages. It can have pictures, just not too many. No focus on pretty colors. Not too many frills. It will come out once a year.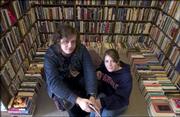 "It's just a journal that doesn't really pull any punches," Barbarick said.
KU's student senate gave the group $1,000 to get started. Members are working to collect more money. And they're accepting submissions at kuswat@yahoo.com. They hope to release the first journal in the spring.
McAllister said there simply weren't enough opportunities for creative writers to get published on campus. And yet, getting published is a necessary step for those who hope to become professional writers.
"I think we have some really promising writers," she said. "We're just trying to be a stepping stone, try to help people get up into that very prestigious writing world."
Copyright 2018 The Lawrence Journal-World. All rights reserved. This material may not be published, broadcast, rewritten or redistributed. We strive to uphold our values for every story published.