Wanted: A loving family willing to spend 24 hours a day taking care of up to three people with severe developmental disabilities. Pay: High $30K, insurance, free housing, use of a car and monthly allowances for food and utilities.
Leaders at Community Living Opportunities in Lawrence are hanging out the welcome sign for displaced victims of Hurricane Katrina. They are betting that at least 20 families out of the thousands forced to flee Louisiana and Mississippi will be interested in the above job offer.
"What we can offer is work and home for some of these people," said Ivo Ivanov, director of marketing and fund development at CLO. "There's been an outpouring of compassion and giving, but people are providing temporary help. We can basically give a family a brand new home right away."
CLO has contacted local and state disaster relief agencies, such as the Red Cross, to get the word out about the family job opportunity. CLO representatives also attended a job fair in Kansas City last week designed to assist displaced hurricane victims.
Ivanov thinks Lawrence will be attractive for people from New Orleans.
"This community has so much in common with New Orleans," he said. "We have the vibrant music scene; we are open-minded; we are tolerant. It could be an easy transition to somebody coming here."
Special people needed
CLO is a nonprofit organization formed in 1977 for parents in Johnson County whose children had developmental disabilities. It has since expanded and developed a partnership with the Behavior Sciences Department at Kansas University. CLO now serves more than 300 children and adults with developmental disabilities in Douglas and Johnson counties and employs more than 400 people.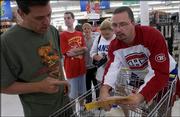 CLO provides several programs, including case management, residential services, day services, training and staff certification and others.
Married couples with or without children who work for CLO live either with or next door to those with disabilities. The severe disabilities often include Down syndrome and other genetic disorders, cerebral palsy and people with severe head trauma.
The CLO family does whatever is necessary to care for people with disabilities assigned to them, including preparing meals. They practice what is called the "family teaching model" developed by KU's behavior sciences. In addition to basic care, the family is to provide daily life and educational experiences.
The families are chosen through an extensive interview and qualification process followed by training. They have to have a special heart for the job, said Shaudel Bain, CLO employment coordinator.
"It takes a really special person to be able to work with these individuals," Bain said. "It's not even a change of job, it's a change in a lifestyle."
It was a lifestyle change that suited Christian and Dione Fortner. They left mainstream jobs in Topeka two years ago to become a CLO family in Lawrence. They and their 14-year-old son live in one side of a duplex while three men in their 30s and 40s with developmental disabilities live in the other side. In the near future, they expect to move into a house and have two of the men live with them.
Photo Gallery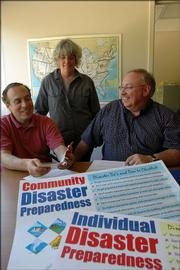 Hurricane Katrina
"We love it," said Dione Fortner, who used to be a network administrator for the state of Kansas. "We get to work together. We spend pretty much all of our time together and be with our son and the three guys we care for."
Ready to give
Christian Fortner knows about making life transitions. He was a French Canadian in Quebec before coming to the United States in 1997. At the time, he didn't speak much English. He still wishes Americans had more of an interest in hockey. Before working for CLO, he was a juvenile corrections officer.
"I was raised in a big family," Fortner said. "My parents were foster parents, so we had 10 to 12 people in one house. I always liked that kind of lifestyle."
Dione Fortner has a few words of advice for anyone thinking about taking on a CLO family job. "The biggest thing is to be ready to give of themselves," she said.
So far, CLO has not signed up any prospective new families, but they are just starting to get the word out, Ivanov said. He noted that CLO has a wide range of support services and the families do get relieved by other staff so they can have a reprieve from being caregivers.
"We expect to fill all of these positions because people are probably expecting to go back to their homes and their jobs, but the reality is that a majority of these people are probably going to have to start from scratch," Ivanov said.
Copyright 2018 The Lawrence Journal-World. All rights reserved. This material may not be published, broadcast, rewritten or redistributed. We strive to uphold our values for every story published.