Nolan Kellerman had heard the talk. Sure, Lawrence High was unbeaten in football, but the Lions' first three foes hadn't won a game.
"Oh-and-nine. Oh-and-nine. We hadn't beaten anybody," Kellerman, referring to the Lions' three victims' combined record, said with a tinge of sarcasm after the Lions shredded Shawnee Mission East, 44-17, Friday night at Haskell Stadium.
"I think we could have played better," Kellerman continued, "but we showed tonight what we can do."
Kellerman, in particular. The 5-foot-9, 170-pound senior running back ran for 202 yards and three touchdowns - including a 77-yard gallop - as the Lions finally defeated a team with a victory. The Lancers were 2-1 coming in.
Also, quarterback Brian Heere tossed a pair of touchdown passes - a 21-yarder to Brandon Lassiter and a four-yarder to Scott Penny - in the third quarter as the Lions boosted their record to 4-0.
Still, as potent as the offense was, the Lions' defense was even better. The Lancers finished with just 120 yards of offense and only six first downs.
Photo Gallery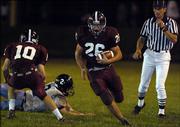 Lawrence High vs. Shawnee Mission East 09-23-05
If Kellerman was the offensive standout, then Mark Albers, another senior, made the key defensive play.
With the Lions leading 18-10 late in the second quarter, the Lancers' Brian Tagg picked off a Heere pass at the SM East 30. Moments later, however, Albers quickly reversed the momentum by picking off Brett Condie's pass in the left flat and returning the theft all the way to the Lancers' eight-yard line.
Two plays later, Kellerman burst over for his third TD, and the Lions went into the break with a 24-10 lead.
"We needed someone to step up," Albers said. "We needed to step on their throat, put a dagger in their heart, and that seemed to do it."
LHS coach Dirk Wedd had no complaints about the defense, but he wasn't passing out any more bouquets.
"I didn't think we played that well offensively," he said. "We let a lot of little things bother us."
Like the kicking game, which Wedd described as "atrocious."
Lawrence High surrendered a 79-yard kickoff return by the Kelly Zumbehl for the Lancers' lone first-half touchdown, but it was the inability to convert extra points that had Wedd chewing nails.
Senior Chris Cates was wide-right on his first conversion kick, so Wedd opted to go for two after the Lions' second TD. But Heere's run failed. Then, after the Lions' third TD, Wedd went back to Cates, but he clanked this kick under the bar. The misadventures continued after the fourth TD when Kellerman's run fell short.
Next, Wedd turned to junior Abby Vestal, but she flubbed her first conversion kick. In her defense, though, it was a 32-yard attempt because the Lions were detected holding on an apparent successful conversion run by Nathan Hickey.
Finally, Vestal nailed conversion kicks following the Lions' last two TDs.
Curiously, Vestal made the last two with Chance Riley holding. Kyle Mendenhall has been the Lions' holder all season, but the 6-1, 175-pound senior suffered a broken leg late in the third quarter while rushing the punter, and Riley, a junior making his season debut, subbed.
Riley, who had missed the first three games after undergoing an appendectomy in the preseason, also filled in for Mendenhall as back-up quarterback in the fourth quarter.
"That was his first varsity game," Wedd said. "It's a good thing he can fill in at quarterback and defensive end."
Lawrence will pass the midpoint of the regular season when the Lions play host to Shawnee Mission South on Friday night.
"I like the way we're playing," Wedd said. "We're at the point where we're a good team, but there are six or eight teams like that and three or four above that."
Copyright 2018 The Lawrence Journal-World. All rights reserved. This material may not be published, broadcast, rewritten or redistributed. We strive to uphold our values for every story published.