Please read Chuck Woodling's game story for the particulars of who carried the football into the end zone in Lawrence High's 44-17 rout over Shawnee Mission East. Lions quarterback Brian Heere's ball fakes were so good, he had me watching the wrong players much of the night.
Watching the defense was easier. Some of the hits were so loud, you could follow what was happening with your eyes closed. And really, I should have closed my eyes when Cameron Reschke closed in on the quarterback to deliver a blind-side hit, but the temptation to rubber-neck simply was too much.
Then there was junior Nick DeBiasse, an in-your-face middle linebacker who rudely interrupts plays and stops them. Period.
The names of the offensive stars for a 4-0 Lawrence team that has the potential to contend for a 27th state title by now are familiar to the generations who follow Lions football: Nolan Kellerman, Nathan Hickey, Brandon Lassiter and Heere.
Finding the glue to a high school football powerhouse requires peering behind the marquee, and that is where you will find subtle two-way standout Marc Albers, a 5-foot-9, 160-pound senior who plays shortstop for the Lions in the spring.
Photo Gallery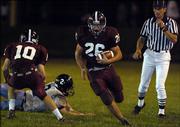 Lawrence High vs. Shawnee Mission East 09-23-05
The casting director for a hit-'em-low-and-hit-'em hard football tackling video couldn't do better than Albers for a star.
"I'm kind of small, and when I go against bigger guys, I can't really get a clean shot when I try to hit them high," Albers said. "So I go for the knees and keep the legs driving."
A safety who calls out the plays for the secondary, Albers didn't hesitate when asked what he enjoyed most about playing football.
"Going out there and hitting people," he said.
That's his role on offense as well. He's listed as a running back, but he's really a blocking back.
"He calls himself a pulling guard," Lions coach Dirk Wedd said. "And he is really a glorified pulling guard."
Wedd has another name for Albers, who had an interception that set up one of the Lions' seven touchdowns.
"He's a coach's dream, a special kid," Wedd said. "You know what he is, he's a winner. He doesn't care about the glory."
And he doesn't care about stereotypes that say a kid his size shouldn't be doing the things he does. As far as Albers is concerned, nothing's more overrated than size.
"It's all in the heart," he said. "You have to have a big heart to play Lawrence High football. You've got to play hard every snap."
And hit hard, the way similar-sized defensive end Brendan Halpin does.
"Brendan's got that wrestler's mentality," Albers said.
It's a pervasive attitude for the Lions, who looked so at home standing in the mud on the sidelines.
The only downer of the night came late in the third quarter when a hush fell over the crowd as senior Kyle Mendenhall's season came to an end. He suffered a broken leg. Fans on both sides of Haskell Stadium and players from both sidelines clapped as he was carted off the field on a stretcher and placed in an ambulance.
The same energy never quite returned to the crowd, whose passion for and belief in this Lawrence team is considerable and understandable. Unlike the first three opponents, SM East (2-2) will win its share.
Copyright 2017 The Lawrence Journal-World. All rights reserved. This material may not be published, broadcast, rewritten or redistributed. We strive to uphold our values for every story published.