Topeka — State officials are offering help, equipment and shelter to Texans as Hurricane Rita lashes at their doorstep.
Joy Moser, spokeswoman for the Kansas Division of Emergency Management, said Friday the state had identified space in shelters for up to 2,150 potential evacuees from the Gulf Coast. That could include those who already have fled their homes because of Hurricane Katrina and face a second relocation.
However, federal officials said Friday afternoon that no more evacuees would be leaving the region as conditions deteriorated. Aircraft would no longer fly out of Louisiana because of high winds and buses would be kept locally. Moser said Texas officials didn't plan to evacuate any residents out of state for the time being.
"We really thought they would call," Moser said.
No shelters have been established, though staff and supplies are on standby. Moser said it would take about seven hours after the call came in before evacuees would arrive by buses - plenty of notice to establish shelters in Sedgwick, Saline, Finney, Douglas, Montgomery and Riley counties.
Highways were clogged Thursday as authorities urged nearly 3 million people to leave the Texas and Louisiana coasts before Hurricane Rita makes landfall.
Photo Gallery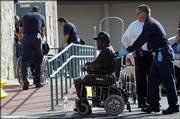 Hurricane Rita
Gov. Kathleen Sebelius offered Texas Gov. Rick Perry assistance from Kansas, including National Guard troops and equipment.
"He said to be thankful that Kansas doesn't have a coastline, and that he appreciated our offer of assistance," Sebelius said Thursday in a news release.
Kansas already has 2,945 people from Hurricane Katrina who have applied for federal assistance. No evacuees are in shelters, opting to stay with friends, family, hotels or other arrangements.
Moser said about 200 Kansas National Guard members are in Louisiana and Mississippi, as well as 120 state and local employees helping with recovery efforts.
Included in the response were 11 Kansas Bureau of Investigation agents, who have been helping Mississippi officials locate missing children. As of this week, 35 children and seven adults have been identified and located in the region.
"We were glad that we could offer assistance in Mississippi when we were asked and pleased beyond words that our agents were able to help reunite those children with their families," said KBI Director Larry Welch.
State helping with relief efforts
¢ Kansas Gov. Kathleen Sebelius said Thursday that she offered Texas Gov. Rick Perry "people, equipment and shelters" to aid his state as it prepared for Hurricane Rita. Sebelius also said she thanked Perry for how Texas housed refugees of Hurricane Katrina. "He said to be thankful that Kansas doesn't have a coastline, and that he appreciated our offer of assistance," Sebelius said. ¢ Lawrence Habitat for Humanity will donate 30 percent of its recycling income to Habitat International Hurricane Relief Program in the wake of Hurricane Katrina and the anticipated landfall of Hurricane Rita. The organization needs volunteers to help pick up cans on a weekly basis part of a fundraiser for the home-building organization and hurricane relief, said Jean Lilley, executive director of Lawrence Habitat. For more information call 832-0777.
Copyright 2018 The Associated Press. All rights reserved. This material may not be published, broadcast, rewritten or redistributed. We strive to uphold our values for every story published.