When Son Hoang first meets you, he doesn't tell you about everything he lost when Hurricane Katrina destroyed his home in Biloxi, Miss. Instead, he talks about the one item that was spared.
He pulls out and carefully cradles a statue of the Virgin Mary. When Hoang returned to his ravaged home, there was one shelf in his home that hadn't been toppled. Atop it was the porcelain figure, standing tall and unscathed.
"It was a miracle," Hoang said through his interpreter, Lawrence Rev. Joseph Tung Dang.
Miracle No. 2 may be in the works. Hoang is one of three families that Dang has plucked from Biloxi and brought to Lawrence to start their lives over.
"I just hope I can help offer them a new life," said Dang, who ministers at Our Lady of Perpetual Help, a Lawrence church that offers Vietnamese Catholic services at the East Lawrence Community Center. "It makes me feel blessed to see these families smile."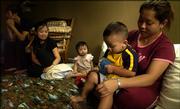 The Biloxi evacuees are smiling, although conditions in Lawrence aren't ideal. Dang has placed one of the families in a home of their own. But the other two families - nine people in all - are sharing a small two-bedroom house in East Lawrence.
Dang has contacted leaders at Ballard Community Center to try to find another temporary home for one of the families. But he's also asking community members to contact him if they have a vacant home or apartment that they would donate, rent-free, for three months.
"We are crying out for help," Dang said.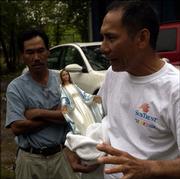 Dang believes he is close to securing manufacturing jobs for the adults, who said they planned to make Lawrence their new home.
"Down there all you see now is trash," said Ky Hoang, the 23-year-old son of Son Hoang. "Everything is just gone. It would take years to rebuild, and it would be very tough to go back down there because you know it could happen again."
Dang has traveled to Biloxi twice since the hurricane struck the area - once just days after the storm and again Sept. 8. During his last trip, he took down 1,000 pounds of rice and distributed it in 90 minutes.
Dang's families may be eligible for help from a fund set up by the Douglas County Community Foundation. The foundation is overseeing $16,000 in funding that community members donated for the city to adopt a hurricane family. The foundation is making the money available to the Ballard Center to use to help hurricane evacuees who end up here.
Copyright 2018 The Lawrence Journal-World. All rights reserved. This material may not be published, broadcast, rewritten or redistributed. We strive to uphold our values for every story published.