For 50 years, he's been one of a kind. Now "Academic Jay" is getting a twin brother.
"Jay" is the bronze Jayhawk sculpture in front of Strong Hall on the Kansas University campus.
His creator, Elden Tefft, has returned to the statue to make a mold of it and create a copy for KU's Edwards Campus in Overland Park.
"This is going to bring some continuity from one campus to another," Tefft said Tuesday while working on the mold with his son, Kim, and two of his grandchildren. "It will make those at the Edwards Campus be a little closer to the hill."
Creating strong ties to KU in Lawrence is important for the Edwards Campus, said Vice Chancellor Bob Clark.
Recreating the sculpture in Overland Park, Clark said, was "a very significant opportunity to send a message that we are KU.
"We have students from the greater Kansas City area, and they ask if this really is KU. It's important for our students to realize this truly is the University of Kansas, and there really is no better opportunity to do that than the use of the Academic Jayhawk."
Photo Gallery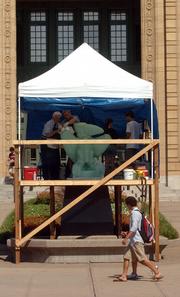 Edwards Campus to get 'Jay'
The new sculpture will be placed in front of Regnier Hall.
The project will cost an estimated $40,000 and be paid for through private donations, he said.
The new Jayhawk will be almost indistinguishable from the original, Tefft said.
"It will just be an infinitesimal amount smaller," he said. "Most people won't even notice it. Maybe not even me."
Tefft, now retired as a KU sculpture professor, said he was proud of the statue he created about 50 years ago.
"So many people have had their pictures taken in front of it," he said. "I'm glad it will be part of the tradition at the Edwards Campus like it has been here. In the '50s, the mold I made was of plaster. This one will be a little better. I'll keep it for a while. They could decide they want one at the medical school."
Copyright 2018 The Lawrence Journal-World. All rights reserved. This material may not be published, broadcast, rewritten or redistributed. We strive to uphold our values for every story published.