Free State High's Alysha Valencia will remember this as the week she ran her best at Rim Rock Farm.
Unfortunately for the senior, her personal-record time came at Wednesday's workout instead of Saturday's race at the Rim Rock Cross Country Classic.
"I basically slaughtered the course, but then I guess I wasn't supposed to do that on Wednesday," Valencia said. "I was supposed to take it easy, so my coach wasn't very happy, and I couldn't figure out why. Now I know."
Despite fatigue, the Firebird still was impressive at the meet with teams from across the Midwest, finishing in 10th place of the gold event after a time of 15:26.
"I lost all the speed and springing off my feet in that Wednesday workout," Valencia said. "It definitely wasn't worth it, but at least I know the next time I come back here what to do, and I can do a lot better on this course."
Free State freshman Kyra Kilwein followed in 19th in a time of 15:45.39.
Kelly Renfro finished highest for Lawrence High, coming in directly behind Kilwein in 20th place.
The Lions' Brianna Di Iorio, Alissa Freeman and Jennifer Taylor finished together in the 91st position to help the team take 15th out of 24 teams in the girls' standings.
"This gives us a better idea of where we are," LHS coach Chip Anderson said, "and how we fit with a lot of the good teams in the state."
Photo Gallery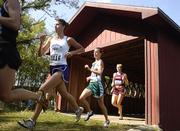 Rim Rock Classic
Free State's girls finished in 16th, just behind Lawrence High.
On the boys' side, Firebird senior Spencer Martin had the best showing in the boys' crimson race, placing 24th with a time of 17:51.
Competing at the more competitive gold level, Lawrence High's Matt Riley paced the Lions with a 59th-place finish.
Hard work and extra training over the summer paid off for Eudora's Brittney Graff, who picked up redemption after taking second place last year to Junction City's Tamera Smith.
This year, Graff overtook Smith at the mile mark and never looked back, winning the crimson girls' event by 11 seconds with a 15:46.
"It was a really good race today," Graff said. "I felt really strong when I was running, and I felt strong when I finished, also."
Graff picked up her first individual victory of the year, mostly because Baldwin participated at the gold level Saturday.
"It felt good," Graff said, "to finally win one."
Baldwin's girls had an impressive day, too. Led by Heather Garcia's fourth-place finish, along with top-30 times from both Kelsey Verhaeghe and Madison Shoemaker, the Bulldogs finished sixth of 24 teams in the gold event.
The event was a preview of Rim Rock for Lawrence High and Free State, which will return to the course for the league and state meets.
Valencia said she was glad to have learned her lesson before the most important meets began.
"We've got the stupid thing out of the way," Valencia said. "It can only go up from here, right?"
Copyright 2018 The Lawrence Journal-World. All rights reserved. This material may not be published, broadcast, rewritten or redistributed. We strive to uphold our values for every story published.