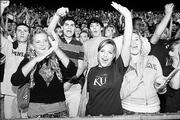 It's hard denying that much of life in Lawrence revolves around Kansas University.
You can tell it on the streets in August, when once-empty streets become clogged with cars. Or in June, when you can get seated immediately at your favorite restaurant when there was a long wait a few weeks earlier.
Regardless of your ties to KU, the university guides life here. It also offers plenty of activities and events throughout the year for people of all ages and interests.
Here are some of the highlights of the university's academic and event calendars:
¢ Lectures - KU brings in interesting speakers throughout the year. One highlight this school year will be Lech Walesa, former president of Poland and a Nobel Peace Prize laureate, who will speak at 8 p.m. Sept. 22 at the Lied Center. Salman Rushdie, novelist and essayist, will speak at 7:30 p.m. Oct. 6, also at the Lied Center.
¢ Fall breaks - The university shuts down for Fall Break from Oct. 13 to Oct. 14. Students also have Nov. 23-25 off for Thanksgiving.
¢ Late Night in the Phog - This is the date all KU basketball fans have been waiting for - the start of practice. This year, the night of open practice and skits will start at 7 p.m. Oct. 14.
¢ Football Homecoming - The annual Homecoming game this year is Oct. 29 against Missouri. Among the events is a 10 a.m. parade with the theme "Hawks on Haunted Hill." For a full list of events, visit www.homecoming.ku.edu.
¢ Winter break - The last day of classes for the fall semester is Dec. 8, with the last day of finals Dec. 16. Classes resume Jan. 20 for the spring semester.
¢ Rock Chalk Ball - The annual fundraiser ball, organized by the KU Alumni Association, will be at 5:30 p.m. Feb. 3 at the Overland Park Convention Center.
¢ Spring break - Students will head for the beaches - or to go home to get laundry done - March 20-26.
¢ Gold Medal Weekend - KU alumni return to the campus for reunions throughout the weekend of April 22-23. Special recognition is given for alumni in the 50-year class
¢ Kansas Relays - Thousands of high school, college and professional track athletes converge on KU's Memorial Stadium for the 79th annual Kansas Relays from April 20-22.
¢ End of school - The last day of spring-semester classes is May 11. Finals run from May 15-19.
¢ Commencement - At KU, graduation is all about "the walk" - the walk down Campanile Hill, that is. The lengthy procession, followed by a short graduation ceremony, will begin at 2:30 p.m. May 21 at Memorial Stadium.
Copyright 2018 The Lawrence Journal-World. All rights reserved. This material may not be published, broadcast, rewritten or redistributed. We strive to uphold our values for every story published.