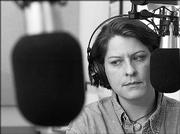 Janis Hutchison can't imagine life without Kansas Public Radio.
She listens to pretty much everything on 91.5 FM - the news programming, entertainment such as "Prairie Home Companion" and the music - including jazz, classical and Celtic.
"Let's sum it up by saying the variety meets my needs," the Lawrence resident said. "For people who can't live without it, you're talking to the right person."
That's the goal for the local public radio station, which is housed at Kansas University: to meet the broad needs of a diverse college town, as well as the needs of surrounding towns such as Kansas City, Topeka, Atchison, Emporia and Junction City.
"We are different and we try to provide programming that's not found anywhere else on the dial," said Janet Campbell, the station's director. "We're blues, jazz, classical, news. And I think of us as the primary weather source for the area. We are an eclectic mix."
Tune in during the early morning hours on weekdays, and you'll hear National Public Radio's "Morning Edition." In the afternoon, it's another NPR staple, "All Things Considered."
Interspersed are local reports from KPR staff, including reporters who focus on the statehouse and health issues.
And then there's the music: nine hours a day of classical, with jazz after 9 p.m. On weekends, it's mainly a mix of news, entertainment, retro jazz, Celtic, folk and bluegrass.
"We do like to serve this community," Campbell said.
KPR, which has 18 full-time and eight part-time employees, is stepping up its services to listeners. The station has added signal repeaters in Olsburg and Emporia in recent years to expand signal coverage, and plans call for another repeater near Manhattan to serve yet another college town.
The station also is upgrading its signal from analog to digital - to provide a crisper sound - and eventually will provide station information to digitally equipped radios.
A new facility, opened in September 2003, also is allowing for new programming options for KPR. For instance, the building has a live performance studio to highlight local individuals and groups.
More than a fourth of KPR's $1.6 million annual budget comes from membership fees, which makes pleasing the listening audience especially important. The rest of the budget comes from the state, KU, the Corporation for Public Broadcasting and program underwriting.
"If we're doing a good job, we'll know it because people will respond," Campbell said.
Copyright 2018 The Lawrence Journal-World. All rights reserved. This material may not be published, broadcast, rewritten or redistributed. We strive to uphold our values for every story published.