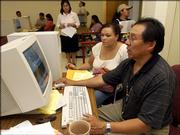 Haskell Indian Nations University's events calendar is built around three annual events:
¢ Haskell Indian Art Market always falls on the second weekend in September.
¢ Fall homecoming is usually in mid- to late October.
¢ Spring graduation and the annual, two-day graduation powwow are in mid-May.
For other events - powwows, for example -scheduling varies with changes in student and faculty interests and availability. Most are listed in either the Journal-World or on the university's Web site: www.haskell.edu.
This year's fall homecoming will be Oct. 22, coinciding with the 2 p.m. Haskell vs. Southwest Assemblies football game at Haskell Memorial Stadium and a Class of 1970 through 1979 reunion.
For more information on the reunion, contact Gloria Graves, 749-8470 or ggraves@haskell.edu; Pat Lorentz, 749-8434 or plorentz@haskell.edu; or Dwight Pickering, 749-8481 or dpickering@haskell.edu.
The art market and graduation powwow are the university's biggest and most popular events.
Held on the Haskell powwow grounds, the art market features dozens of artists - silversmiths, painters, printmakers, ceramists, carvers and sculptors - from across the United States.
The graduation powwow often features student dancers dressed in regalia that is unique to their tribes.
On-campus clubs often sell food and refreshments at the powwow and art market. Both events are free and open to the public.
The 2005-06 graduation is set for May 12. In years past, ceremonies have been in either the Coffin Sports Complex or Haskell Memorial Stadium, depending on the weather.
"The Haskell campus is open to the public," said Haskell spokeswoman Lori Tapahonso. "We welcome the public."
Formal and informal tours are available by calling the Haskell Cultural Center and Museum, 832-6686. The center is open from 8 a.m. to 5 p.m. Monday through Friday.
Copyright 2017 The Lawrence Journal-World. All rights reserved. This material may not be published, broadcast, rewritten or redistributed. We strive to uphold our values for every story published.