Rebecca Curtis is about to break out of her comfort zone, and she has $10,000 to help her do it.
Curtis, a Kansas University assistant professor of English, this week will be awarded one of six Rona Jaffe Foundation Writers' Awards, given to some of the top fledgling women writers in the country to develop their writing careers.
The award comes at a perfect time for Curtis, who is preparing to start work on her first novel. The book, unlike many of the short stories she's written, won't be set in her home state of New Hampshire or rely on experiences she had growing up.
"This novel, in a lot of ways, is a big departure for me," she said. "I'll be writing about a topic I don't have experience with and a setting I don't know."
The award, which will be presented in New York, was founded in 1995 by Jaffe, a best-selling author. It is the only awards program in the country devoted exclusively to new women writers.
Each recipient receives a $10,000 award to help further her career, and the Rona Jaffe Foundation provides resources to help get work published.
"It's a really big deal," said Tom Lorenz, the associate chairman of the English department who recruited Curtis to KU. "I think she's as talented as any author her age in the country. I think her talent is immense. I think she's going to be a really famous writer."
Novel ideas
Curtis is planning to write a novel based on the real-life experiences of Azni Gostonian, an Armenian woman who survived genocide in Turkey by marrying a Turk and later escaped the country with the help of a Turkish woman.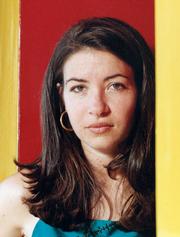 Gostonian was a close friend of Curtis' grandmother, and the family called her "auntie." Curtis has a 30-page memoir written by Gostonian to form a basis for the novel.
She'll use the prize money to travel to Turkey to do research for the novel, either during winter break or next summer. She expects the novel to take at least a year to write.
"It's really an amazing grant," she said. "It's a great opportunity to pursue the research for a novel, to complete that work."
Story acclaim
Curtis, who is in her early 30s, already has gained some distinction as a writer of short stories.
She's had short stories published in The New Yorker and Harper's. She's also been published in McSweeney's and other magazines and journals.
Most of her stories are based in New Hampshire, and she tends to use job experiences from her past in her stories. For example, a recent story in The New Yorker centered on a man who ran an Alpine slide and water park, a job she had when she was 14.
Curtis is completing a seven-story collection of short stories that she's hoping to publish. She may try to get a two-book deal with the collection and the new novel - and she's hoping to meet publishing representatives during the awards presentation this week.
"She's clearly already distinguished herself in some ways," said Beth McCabe, co-director of the Rona Jaffe Foundation. "She knows how to write a short story that's based somewhat on her upbringing. It takes guts to really try something different. I'd say that's a real act of bravery or courage on her part."
McCabe said the award should serve as a challenge to Curtis to take her writing to a new level.
"This is our way of saying, 'We know you have the stuff. Let's see if we can give you more time in your daily and weekly schedule to do more of this,'" McCabe said.
Teaching joys
Curtis is in her third year as a faculty member at KU. She has degrees from Pomona College in California, New York University and Syracuse University.
She's spending the year living in Lawrence from Monday through Wednesday to teach her classes, then flying to Brooklyn during the rest of the week. She said she wanted to live a year with friends there and soak in the artistic culture of the borough.
Even if her writing career takes off, Curtis said she wanted to continue teaching.
"I really like teaching," she said. "It's really exciting to be able to teach and get out in the world. If you sit in a house all day, it's very insular. I need teaching to get me out with other people."
Her KU colleagues like having her around, too.
"She's delightful," Lorenz said. "She's very energetic. She's great with students. The students have really taken to her. She's very generous with her time and suggestions to her students."
Curtis said she's not sure whether she wants to continue focusing on short stories in the future or switch over to writing novels.
"It's hard to look so far ahead," she said. "I hope to do a good job on this novel. If I do a good job on this novel, I'll be thrilled. We'll see after that."
Copyright 2017 The Lawrence Journal-World. All rights reserved. This material may not be published, broadcast, rewritten or redistributed. We strive to uphold our values for every story published.