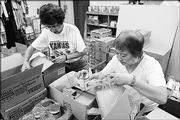 A few times a day, Mike Caron can look outside his office inside the Douglas County Jail and see volunteers interacting with inmates.
Caron, the jail's program director, said his volunteers were vital in achieving his goal of giving inmates better skills upon their return to the community.
"If we just dump them back there, and they don't have very good skills to maintain jobs, then they are more of a risk to return to jail," Caron said.
The program at the Douglas County Jail remains one of many avenues for community members to volunteer their time to help others.
And the willingness of many Lawrence and Douglas County community members to volunteer to teach inmates has allowed him to develop a strong and more in-depth educational program, Caron said.
Kansas University and Haskell University faculty and students willingly offer their services. At the beginning of each semester, calls from undergraduates nearly flood Caron's office. They want to teach literacy and writing to inmates.
Caron has to turn most undergraduates away because his jail volunteers must have some type of training to work inmates, who are mostly adults and young adults at tough points in their lives.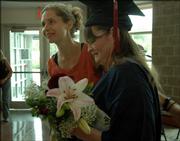 "It really isn't a good place to be beginning," he said.
But Caron said he welcomed many able volunteers - such as upperclassmen, graduate students or adults - who have had prior experience and want to spend their time teaching.
Mary Michener, 86, teaches writing programs for female inmates. KU writing professor Brian Daldorph also teaches writing classes to minimum- and medium-security inmates.
Several volunteers work in state prisons during the day and visit the jail in the evenings to teach classes and lead groups, such as Alcoholics Anonymous.
And four KU graduate students in social work also volunteer to teach life skills and corrective programs.
"We're focused on things that are going to help people return to the community. We do parenting workshops at all levels," Caron said.
His influx of volunteers has allowed him to expand and offer art and music therapy classes. Leaders in the religious community, which includes the Islamic Center and the Zen Center, work with inmates.
Despite the strides his program has made, Caron doesn't want to stop there.
He's always looking for adults with mentoring experience who can expand his educational programs and even work to continue to encourage inmates.
"We all benefit when inmates learn something valuable and return to society," he said. "When their lives get tougher, it's bad for the community because they've usually committed a crime and are back in here."
Many opportunities
While the jail program has its needs, Lawrence and Douglas County community members can hand-pick the type of voluntary work they want to do.
And they can find it mostly in one place. The Roger Hill Volunteer Center at 2518 Ridge Court aims to connect those looking to become volunteers and agencies with needs. The center began in 1990 and is a service of the United Way of Douglas County.
"We have at least 200-plus opportunities in the same catalog available online," said Margaret Perkins-McGuinness, manager of the center.
A printed catalog also is available from the center.
The volunteer opportunities on the Web site, www.rhvc.org, range in categories from helping youths, animals and wildlife, or working in health care, counseling, education, literacy, environment, food services, senior services, technical services, office support and special needs.
The center also publishes a "How to Help" section every Monday in the Journal-World.
Helping the community
Perkins-McGuiness said a one-on-one meeting with staff at the Roger Hill center was the best way to place a willing volunteer. The staff gets a sense of the person and where they may be needed the most in the community, she said.
Any type of volunteer work makes a community stronger, Perkins-McGuinness said, from working with underserved children to low-income families.
"Many times, an increase in an organization's capacity allows it to better meet the community's needs," she said.
As one who places volunteers daily, Perkins-McGuinness said many area agencies want to gain more working adults, who are already active in the community, as volunteers.
"Individuals who are stable and really able to devote themselves for a long time to a community agency or project really make a difference," she said.
For those that may not have a consistent time to volunteer, Make a Difference Day is Oct. 22. On that day, everyone is encouraged to give some aid to help an individual or organization, Perkins-McGuinness said.
Meanwhile, many of the more than 200 listings on the Roger Hill center's Web site include opportunities to help at Lawrence Memorial Hospital, Big Brothers Big Sisters, the Brandon Woods Retirement Community, the Lawrence-Douglas County Humane Society and many others.
For those interested in improving wildlife, Clinton Lake opens its grounds constantly for groups to help cleanup, said the lake's volunteer director, Willem Helms.
The lake usually runs a major cleanup in the spring, but groups also can help in the meantime.
"We're open to all ages," Helms said. "For us, getting volunteers is a great way to keep our parks on the upkeep."
The best way to find out about opportunities at the lake would be to stop by the parks visitor's center, Helms said.
The Ballard Community Center at 702 Elm St., aims to cater to community and family needs, said its resource director, Paul Hunt.
Hunt constantly looks for volunteers to help him unload and pack food shipments that come in for the food bank, he said. Other projects need attention as well, such as tutoring children.
"Overall, it's just a really great way to stay in contact with the community," he said. "I can't say there's one group under-represented."
Copyright 2018 The Lawrence Journal-World. All rights reserved. This material may not be published, broadcast, rewritten or redistributed. We strive to uphold our values for every story published.