Overland Park — Nathan Hickey sure didn't look nervous in his first start at running back. He was, though.
"I'm nervous before every game," the Lawrence High senior said. "I can't sleep. I just toss and turn."
On Thursday night, Hickey turned in 146 yards on 17 carries and tossed in three touchdowns as the Lions blanked Shawnee Mission North, 35-0, at SM South District Stadium.
"He stepped up," Lawrence High coach Dirk Wedd said after the 6-foot-3, 200-pound Hickey ran for scores from the 20-, 5- and 1-yard lines.
Hickey subbed for Matt Stiles, who suffered a broken wrist bone in last week's 18-13 victory over Olathe North. Wedd shifted regular tailback Nolan Kellerman to fullback and inserted Hickey in Kellerman's spot.
The two seniors provided an effective 1-2 rushing punch. Kellerman didn't score, but had as many carries as Hickey and churned out 82 yards. The Lions trampled the outmanned Indians with 397 yards on the ground, yet a defensive play clinched this one.
Lawrence led 14-0 at the break, and the two-touchdown advantage quickly became three. On the second play of the second half, Lions' cornerback Brandon Lassiter snatched a batted SM North pass out of the air at the Indians' 40 and took off.
Photo Gallery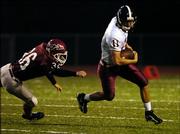 Lawrence High vs. Shawnee Mission North 09-15-05
Lassiter ran about 20 yards down the right sideline before seeing he would be pinned in, so the 5-11, 165-pound senior reversed his field and angled ahead of the pursuit into the left corner of the end zone.
"The key was Lassiter's interception," Wedd said. "He's really been playing well."
It was Lassiter's interception in the waning moments last week that sealed the win over Olathe North. Lassiter also caught a 41-yard pass from quarterback Brian Heere just before halftime - the Lions' only completion of the night - but Lawrence couldn't capitalize on that big play.
A handful of other big plays did lead to scores. Heere's 30-yard punt return set up the Lions' first touchdown. Heere also contributed a 44-yard run to fuel the Lions' fourth TD.
And Tyler Hunt, a sophomore playing in his first varsity game, broke loose on a 56-yard touchdown gallop midway through the fourth quarter after Wedd had sent in the reserves.
Hunt, a 6-1, 200-pounder, was elevated primarily to play linebacker in the absence of Paul Finch, who suffered a season-ending knee injury in the O-North game. But Hunt is also filling in at running back with Stiles on the shelf.
"Losing Finch, we needed another linebacker," Wedd said, "and you can't have too many running backs. He helps us. He's a big kid who reminds me a little of Jason Thoren."
Thoren is a former Lawrence High running back-linebacker who later became a standout linebacker at Kansas University.
Hunt also played some linebacker Thursday night and helped hold the Indians to only 89 offensive yards and no points.
"I'm glad we got the shutout," senior nose guard Travis Alexander said. "We should have had shutouts the last two weeks, too."
The Lions surrendered a touchdown against Leavenworth in the opener and two last week to O-North, and Wedd can't complain about three TDs in three weeks.
"All the great Lawrence High teams from the 50s and 60s, and 80s and 90s, were all teams built around defense," Wedd said. "We've missed that the last few years."
Three weeks into the season and the Lions have reversed their 2004 start. They're 3-0 after beginning last season 0-3.
"It's really nice," Hickey said. "It feels like we're Lawrence High again."
Echoed Alexander: "I guarantee you 3-0 is a lot better than 0-3, but I know I can get better and everyone on the team can get better."
After playing two of their first three on the road, the Lions will have their next two games at Haskell Stadium - a week from today against SM East and Sept. 30 against SM South.
Copyright 2017 The Lawrence Journal-World. All rights reserved. This material may not be published, broadcast, rewritten or redistributed. We strive to uphold our values for every story published.