Olathe — Who would have believed it?
Ground-oriented Lawrence High rarely throws two touchdown passes in a season, much less two in a quarter.
Yet it was quarterback Brian Heere's two second-quarter TD tosses that carried the Lions to an 18-13 triumph over long-time nemesis Olathe North in Sunflower League football Thursday night at ODAC.
"People cheat so hard to stop our running," Lawrence coach Dirk Wedd said, "that we've got to pick our times."
Heere picked the right times.
Moments after the Lions covered a fumble by O-North tailback Josh Gore at the Eagles' 45-yard line, Heere launched a bomb to tight end Scott Penny who was wide open at the 20, caught the pass, turned around and lugged the ball into the left corner of the end zone.
The play was similar to last week's season opener against Leavenworth when Penny, also 20 yards behind the defense, caught a Heere aerial, but was hauled down at the 2-yard line.
Photo Gallery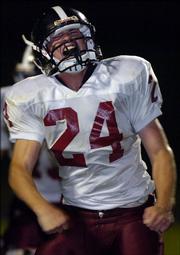 Lawrence High vs. Olathe North 09-08-05
"That was definitely the joke of the locker room," Penny said with a chuckle. "Today I took a better angle."
Penny's score lifted the Lions to a 12-0 lead - halfback Nathan Hickey had raced for a 27-yard score in the first quarter - but the Eagles scored on the next possession to slice the Lions' lead to 12-7.
Then Brandon Lassiter, who would be heard from again in a more critical role, unleashed a 43-yard kickoff return to O-North's 35. Five plays later, the Lions faced a third and 12 at the 22 when Heere tossed a swing pass in the flat to halfback Nolan Kellerman.
Several broken tackles later, Kellerman was in the end zone and the Lions had an 18-7 advantage.
How did Kellerman manage to shed so many would-be tacklers?
"I wanted the ball and I didn't want to go down," he said. "I wanted to score for the all the lineman who were blocking for me."
Then Kellerman paused and said with a grin: "Mostly, I was just lucky."
Most of the Lions' luck in the second half - on offense, anyway - was bad. Hickey and Heere each lost a fumble, and Heere threw an interception. But the defense held time and time again.
"Our defense did a great job," Wedd said, "but we have to learn to play 48 minutes on offense."
Olathe North's lone second-half score came after Wedd opted to try to convert a fourth-and-two at the Lions' 35-yard line late in the third quarter. After fullback Matt Stiles was stopped for no gain, the Eagles drove 35 yards in nine plays for a touchdown that sliced the Lions' lead to 18-13.
Wedd had been successful on fourth-and-short calls a couple of times earlier, but not this time.
"I took the wrong player out," the LHS coach said. "It was my fault because I didn't make it clear to the player who went in who he was supposed to replace."
Heere fumbled on the Lions' next possession and that turnover enhanced the Eagles' momentum. Shortly thereafter, however, Lassiter came to the rescue.
With about three minutes remaining, Lassiter intercepted O-North quarterback Darren Tidd, returned the theft 20 yards and the Lions didn't surrender the ball again until 1:06 remained. That wasn't enough time for Olathe North.
"That was big," Wedd said of Lassiter's heroics.
Lassiter was all over intended receiver Jared Milo heading down the left sideline.
"I just stayed with him and looked back, just like we do in practice," Lassiter said.
Copyright 2018 The Lawrence Journal-World. All rights reserved. This material may not be published, broadcast, rewritten or redistributed. We strive to uphold our values for every story published.