The butterfly garden behind Foley Hall is in full glory.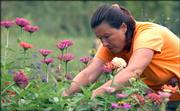 "It's magnificent," said Chip Taylor, director of Kansas University's Monarch Watch program. "There are probably 30 species of butterflies out there now."
With butterflies come caterpillars.
"I have to go out there once a day to collect caterpillars," Taylor said. "If I didn't, there wouldn't be any milkweed left."
The garden will be the centerpiece of Monarch Watch's fall open house from 8 a.m. to 3 p.m. Saturday at Foley Hall on KU's west campus.
"I'm guessing there are 50 different kinds of plants out there," said Margarete Johnson, a master gardener who maintains the site. "We have lots of milkweed - annual and perennial - nectar plants and, for the larvae, herbs: chive, dill and rue."
Several master gardeners will be at the open house to answer questions.
In April, Monarch Watch launched a national campaign aimed at creating 10,000 "way stations" to help sustain North America's monarch population.
The garden at Foley Hall, Taylor said, is "Way Station No. 1."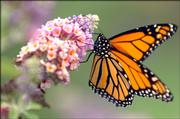 There are about 300 way stations containing milkweeds and nectar-producing flowers. Seed kits are available through Monarch Watch.
"People are signing up from all over the country," Taylor said.
The way stations are needed, he said, to offset the loss of habitat caused by urban sprawl and herbicide-resistant crops.
Because of the abundance of caterpillars, children taking part in Saturday's open house will be given a chrysalis to take home. Monarchs should emerge within a week or two.
"As long as supplies last," Taylor said, referring to the chrysalis giveaway. About 500 people are expected at the event.
Monarch Watch and Jayhawk Audubon Society's annual tagging event will be 7:30 a.m. to 11:30 a.m. Sept. 17 at the Baker Wetlands on 31st Street between Louisiana Street and Haskell Avenue.
Copyright 2017 The Lawrence Journal-World. All rights reserved. This material may not be published, broadcast, rewritten or redistributed. We strive to uphold our values for every story published.