Like thousands of Lawrence residents, Cathy Reid - for several gut-wrenching days - has watched TV news coverage of Hurricane Katrina's devastation.
But her anxiety was particularly acute. New Orleans and Bay St. Louis, Miss., were her childhood homes. And many members of her family had their homes flooded.
"My old church is flattened," Reid said of TV coverage she saw during the week.
"That was hard to see that," she said Thursday, wiping tears from her eyes.
Reid plans to leave today, driving more than 950 miles to the ravaged Gulf Coast area to rescue her 74-year-old mother, Gloria Madere. She plans to bring her back to Lawrence.
Reid said she was born in New Orleans and moved down the coast about 60 miles to the east to Bay St. Louis, Miss., when she was 12.
Reid's husband, Eddie, is from the Lawrence area, and she moved here in 1989. She works as a receptionist at Lawrence Internal Medicine, and her husband is a custodian for the Eudora school district.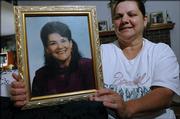 Before Katrina hit, Reid's mother lived with Reid's brother, John Lancloss, in Waveland, Miss., just west of Bay St. Louis.
Family members told her 3 to 4 feet of water now stand inside the Lancloss home, though it is about 10 miles from the beach and elevated 10 feet by pillars.
The family refused to evacuate before the hurricane hit and Reid last spoke to her mother Aug. 29, the day after Katrina hit the coast.
The family had no power and late last week her mother began staying at a senior center in Bay St. Louis, she said. On Wednesday, family members urged Reid to come rescue her mother from the shelter.
Other family members are now crowded together in one house that was not badly damaged, Reid said.
"It's devastating. Absolutely devastating. I was scared for my family," Reid said.
Photo Gallery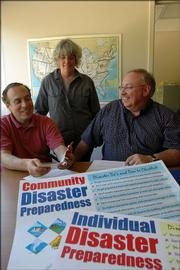 Hurricane Katrina
Beyond a change of clothes, she said, she will pack little into her Chevrolet truck for her trip other than items to help hurricane victims.
On Thursday she began collecting clothing and other necessities, including diapers and hygiene products, for the survivors. She will drop them at a Red Cross check point in Bay St. Louis when she arrives.
"I just figured that I'll be going down there, so I might as well take things for people who need them," Reid said.
The long trip also has her worried about the high cost of gas.
"Any little bit helps. The gas is going to eat me up," she said.
Reid said she would accept donated items for her truckload until 4 p.m. today. Those interested can contact her at 691-6829.
At the Reid's Lawrence home Thursday, some family members expressed uneasiness about her trip.
"It scares me to death," said Crystal Roper, Reid's daughter.
But Reid said she had to see her mother.
"I'm going to hug her to death. I'll squeeze her. I just can't wait to see her," she said.
How you can help
Sunflower Broadband's 6News, in conjunction with the American Red Cross and the Salvation Army, is raising funds for relief for Hurricane Katrina victims. 6News will host the special "Hurricane Katrina: We Care" from 8 p.m. to 10 p.m. Sunday on Sunflower Broadband Channel 6, during which viewers can make pledges to the relief agencies. ¢ Direct donations to the Douglas County Chapter of the American Red Cross may be made with a credit card by phone at 843-3550, or by mailing checks or money orders to Douglas County Red Cross, 2518 Ridge Court, Lawrence 66046. Donations also may be made online in various ways at www.redcross.org. ¢ Donations to the Salvation Army may be made by credit card at (800) SAL-ARMY or online at www.salvation armyusa.org. Checks may be mailed to 3637 Broadway, Kansas City, Mo. 64111.
Copyright 2018 The Lawrence Journal-World. All rights reserved. This material may not be published, broadcast, rewritten or redistributed. We strive to uphold our values for every story published.