'Tis the season when one of the greatest sources of state pride lifts its petaled head and reminds us of the simple, bright beauty all around us.
Arkansas has the apple blossom. Nebraska, goldenrod.
Kansas claims the mighty, majestic sunflower.
Ted and Kris Grinter, who own a farm between Lawrence and Tonganoxie, have grown sunflowers for years. Ted's father started the tradition three decades ago.
The crop size has ebbed and flowed, peaking at 200 acres. But facing tough competition with out-of-state farms that offer lower prices, Grinter has decreased his sunflower crop to 25 acres.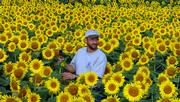 Over the years, the fields of yellow have captivated folks from near and far. They come to have their photos taken for weddings and holiday cards.
Sunflowers can be a bit of a hassle, Kris Grinter said. They're not the most lucrative crop. And after harvest, they have to be cleaned, bagged and peddled around to potential buyers. The farm would be better off planting soybeans, she said.
But there is something about their smiling tops, that sea of yellow and the grins on those who stop to gawk.
Ted Grinter is a people person, his wife said. When people drop by to admire the flowers, he comes out to chat - even if he's busy. Like the visitors, Grinter relishes this time of year, his wife said.
"He has one week," she said, "when he's just in hog heaven."
Copyright 2018 The Lawrence Journal-World. All rights reserved. This material may not be published, broadcast, rewritten or redistributed. We strive to uphold our values for every story published.