Officials with a Lawrence-based trade organization say they hope to follow through with an event that could help rebuild the hurricane-tattered economy of New Orleans.
Golf Course Superintendents Association of America still plans to conduct its annual Education Conference and Golf Industry Show from Feb. 6 to Feb. 11 in New Orleans, officials said Tuesday.
But with Hurricane Katrina's effects still mounting - as rescue and recovery operations continue, with much of the city remaining under water - association leaders are considering moving the show to another city big enough to accommodate 23,000 participants, 800 exhibitors and an estimated $14 million in spending.
"Our feeling is that we want to give New Orleans every opportunity to review the situation and see if they can host our conference," said Jeff Bollig, spokesman for the association, which is based at 1421 Research Park Drive. "If we have to move this show, we're effectively putting two years of work into five months, which could be quite a challenge. But : it is what it is."
Officials with the New Orleans Convention & Visitors Bureau already have called off conventions in the city through Dec. 1, and decisions about events scheduled through March will be expected this week, said Peggy Hagaman, manager of the bureau's Midwest office in Chicago.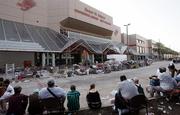 Although bureau officials are confident that the city will recover from the disaster and that the convention and tourism industry - the region's No. 2 employer, with the hospitality industry alone accounting for 80,000 jobs - once again will thrive, they know it won't be easy.
The bureau's own offices in New Orleans are being used as an operations center for the National Guard, and the 1.1 million-square-foot Ernest N. Morial Convention Center - where the planned golf show is scheduled to occupy 270,000 square feet - is serving as a staging area for the Federal Emergency Management Agency.
Relocating people stranded in New Orleans remains the top priority for all agencies, Hagaman said. Then it's time to assess the damage and go to work rebuilding what has been lost.
"We're very fortunate to be working with organizations, like Golf Course Superintendents and others, who are working with the city to give support to the city during this time," she said. "We're trying to work with them - whatever is best for the association's needs."
The conference and trade show is essential to the association's own survival, Bollig said. The event generates about $8 million for the association, accounting for nearly half its annual operating budget.
The association carries an insurance policy, issued through Lloyd's of London, to protect the association in case the event would be canceled.
But Bollig said that association leaders were committed to conduct the conference and show, regardless of the final location. Other communities being considered include Orlando, Fla.; Houston; Dallas; San Diego; Anaheim, Calif.; and Phoenix.
The event will include several programs to help generate donations to assist in hurricane relief efforts throughout the Gulf Coast, where 500 association members live and work.
"If we just canceled the show, we thought it would be succumbing to defeat," Bollig said. "We feel that the best way to keep the industry going, and to generate funds for donations, is to conduct the show."
The conference and show is scheduled to return to New Orleans in 2009.
Copyright 2018 The Lawrence Journal-World. All rights reserved. This material may not be published, broadcast, rewritten or redistributed. We strive to uphold our values for every story published.