Baldwin — Today and Monday, railroad enthusiasts can board a train in Baldwin that will take them back in time.
"Railroads actually built this country," said Ernie Griffin, general manager of Midland Railway. "This is our history."
The Midland Railfest annually features locomotive cab rides and older cars, including the caboose, no longer used to transport passengers.
Trains leave at 11 a.m., 1 p.m. and 3:30 p.m. today and Monday from the historic 1906 Santa Fe Railway Depot in Baldwin next to Allen Park.
The restored railway post office car has become a mainstay of the festival and its rides, Griffin said.
Car No. 30, the post office car, will offer commemorative cancellation stamps for riders.
Aboard the train, former Kansas City Southern Railroad Post Office workers will demonstrate how until 1968 most mail was sorted and delivered as the passenger trains bumped from town to town, Griffin said.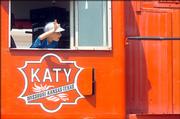 On Saturday, 30 minutes before passengers boarded the train to Ottawa, members of the Singing Conductors, Dee and Roger Clark, belted out railway songs with the Misty River Band.
Rides at 11 a.m. to the Norwood town site cost $10 for adults and $5 for children. Rides at 1 p.m. and 3:30 p.m. to Ottawa cost $15 for adults and $7 for children. Food is also served at the depot.
The railway operates on a right-of-way built in 1867 for the Leavenworth, Lawrence and Galveston Railway. It later became part of the Atchison, Topeka and Santa Fe Railway system, Griffin said. The nonprofit Midland Railway Historical Assn. runs the festival.
"Passenger trains really aren't part of the railroad system today," Griffin said. "People should come out and turn back the clock with us."
Copyright 2018 The Lawrence Journal-World. All rights reserved. This material may not be published, broadcast, rewritten or redistributed. We strive to uphold our values for every story published.