Residents of Atchison are assisting a family of New Orleans refugees who arrived in their town Friday after losing their homes to Hurricane Katrina last week.
A family of 10 consisting of eight adults - including a grandmother - and two children made the long drive from New Orleans to Atchison aboard an extended or double cab pickup truck, said Jill Thorne, a member of the board of directors for the Red Cross there. They chose Atchison because they have a relative already living there, she said.
The group spent Friday night in a former Benedictine College dormitory now used for lodging, said Thorne, an employee in the business office at the Journal-World. Their lodging was paid for by college students.
Photo Gallery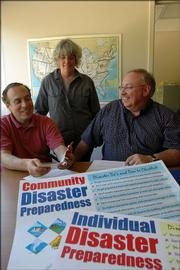 Hurricane Katrina
At least some members of the family plan to stay in Atchison while others may decide to go elsewhere, Thorne said.
"We are trying to find permanent housing for them and employment," she said. "We are working with the housing authority."
Saturday afternoon Thorne said she received a call from a National Red Cross representative who said Kansas could receive as many as 10,000 refugees from the hurricane-stricken Gulf of Mexico region.
But as of late Saturday, however, the Douglas County Red Cross chapter had not been told to expect refugees or how many might arrive in Kansas, executive director Jane Blocher said.
"We just don't know," she said. "It's just going to be a wait and see."
Receiving a large number of refugees at once in Lawrence would present a challenge because many of the shelters that would be used are in schools and school gymnasiums, and school is now in session, Blocher said.
"It's just too early to tell what will happen," she said.
Meanwhile, the Atchison family had received new clothes, and restaurants were providing them with meals, Thorne said.
"It's been awesome," she said. "A retired firefighter and his wife came in, gave them $400 and said to spend it on what they wanted. He also is loaning them a car."
The family took refuge from Katrina in a New Orleans hotel room, where they stayed for two days until they were told they had to leave. They managed to get the pickup truck started in a flooded parking lot and then drove to Kansas. They still are in shock and were unable to return to see what happened to their homes, Thorne said.
"They can't believe it, still," she said. "It hasn't really sunk in."
Copyright 2017 The Lawrence Journal-World. All rights reserved. This material may not be published, broadcast, rewritten or redistributed. We strive to uphold our values for every story published.