Lawrence is not susceptible to a hurricane, but it certainly is to any number of other kinds of disasters.
Is there a plan to evacuate the city if need be? The answer is no, according to Douglas County Emergency Management Director Paula Phillips.
And that has kept Phillips awake the last several nights as she watches on television the agonizing response in Louisiana and Mississippi to Hurricane Katrina.
"Where would we put 100,000 people?" she said. "How do you provide the infrastructure for that?"
Updates needed
Phillips said it was unlikely there would ever be an emergency in Lawrence that would require the evacuation of the entire city.
But that doesn't mean officials shouldn't be discussing such a scenario.
She plans to bring the matter up soon to the Emergency Management Advisory Board.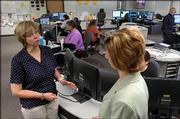 She said the city, county, Kansas University, schools, law enforcement and Lawrence Memorial Hospital needed to be on the same page.
"I'm putting a lot on my to-do list," she said.
Her concerns are echoed at the state level.
In light of Hurricane Katrina, Gov. Kathleen Sebelius said Kansas could not afford to be caught short in planning for such emergencies.
"My job as governor is to help protect Kansans, and so it also sends a shudder through me.
"I know we will spend weeks, months going through our own assets and inventory - what if this was Kansas, what are the missing pieces here - making sure we are as prepared as we possibly can be for any kind of event happening in Kansas."
State knows disasters
Kansas emergency officials have a lot of experience responding to tornadoes, floods, ice storms, hail and other natural disasters.
The state also has in place an emergency plan in the event of an accident at Wolf Creek nuclear plant.
Photo Gallery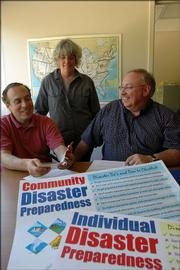 Hurricane Katrina
In recent years, as in other states, Kansas has received millions of dollars to prepare for emergencies related to terrorism and bioterrorism.
But Kansas has never had to deal with a catastrophe the size and scope of Hurricane Katrina.
Maj. Gen. Tod Bunting, the adjutant general and director of Kansas Homeland Security, said no state could handle a Katrina-type emergency by itself.
"If that happened to us we would need them (other states) to help us.
"There is no state in the union that could handle that. You have to have neighbors when something like that happens," he said.
Lessons from Katrina
Phillips, the Douglas County emergency director, said officials should watch Katrina closely to learn about how to respond to disasters.
"What we can learn is that the people who are the most vulnerable are the people who don't have the means to prepare or flee," she said.
For emergency planners, that means they need to focus on knowing where those people are before a disaster hits, so that help can be sent their way, she said.
How you can help
The Douglas County Chapter of the American Red Cross is collecting donations locally. Peoples Bank also said it would donate $10,000 to the Red Cross and serve as a collection point. People wanting to donate to the Red Cross can call 843-3550, bring it to the agency's office at 2581 Ridge Court or go online to www.redcross.org. The agency can accept only cash donations. About 92 cents of each dollar goes directly to emergency-relief services, said Jane Blocher, the local chapter's executive director. The Salvation Army also is accepting donations. People wanting to donate using a credit card can call (800) SAL-ARMY or visit www.salvationarmyusa.org. Checks can be mailed to The Salvation Army, 3637 Broadway, Kansas City, Mo. 64111. For more information on emergency preparation, go to www.ksready.gov.
Copyright 2018 The Lawrence Journal-World. All rights reserved. This material may not be published, broadcast, rewritten or redistributed. We strive to uphold our values for every story published.