Lawrence High did about everything it wanted to Friday night - everything, that is, except pass the football.
"We could have thrown," wide receiver Brandon Lassiter said, "but I guess we didn't need to, because our running game's pretty good."
The Lions showed just how good in their season opener. LHS made sure not to overlook Leavenworth this season, rolling up 458 yards on the ground in a dominating 49-7 victory at Haskell Stadium.
Five different backs scored for the Lions - all in the first 30 minutes.
"We just have a whole bunch of kids who are very unselfish," LHS coach Dirk Wedd said. "They care less about who scores and care more about what they put on the scoreboard."
After losing Ian Handshy and Jeff Colter to graduation, Lawrence might have wondered if it would be able to find quick replacements for the two quality backs.
Photo Gallery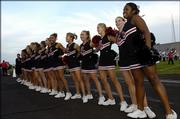 Lawrence High vs. Leavenworth 09-02-05
All questions were answered Friday night. The Lions' offensive line and backs played so well, in fact, that they allowed quarterback Brian Heere only one pass attempt before he and other starters were pulled in the second quarter.
"We're a pounding team," Lassiter said. "That's Lawrence High tradition, and that's what we're going to do."
The blowout also featured the debut of Lions' kicker Abby Vestal, who came in on the team's fifth point-after attempt.
She split the uprights on her first PAT attempt to make it 35-0, then booted her second successful kick two minutes later to finish the night a perfect 2-for-2. She is the first female to kick in the team's football history.
Lawrence looked sharp from the start.
The Lions took the opening kick and marched 56 yards on seven plays, capped by a 15-yard touchdown run by Lassiter.
Six minutes later, after having a 34-yard Nolan Kellerman run called back because of a holding penalty, running back Matt Stiles outran the Leavenworth secondary on a 79-yard score down the right side to make it 13-0.
"I think they kind of walked into a hornet's nest," Wedd said. "Because we've had three weeks to get ready for one football game."
Heere completed his only pass - a 66-yard bomb to Scott Penny over the middle - to set up the next score. Kellerman finished the drive with a two-yard touchdown scamper.
Though a receiver by trade, Lassiter did his damage out of the backfield on the next two Lion scores.
The 5-foot-11 Lassiter followed a crushing block by Paul Finch to find the end zone on a 16-yard scamper, then took a misdirection run 48 yards to the outside two minutes later for his third trip to the end zone.
Lassiter scored touchdowns on three of his four carries, finishing with 89 yards.
"Everybody stepped up," Lassiter said. "We came out and hit them hard, and that's exactly what we wanted to do. We started the season out right."
Stiles' 119 yards on nine carries paced the Lions, with Richard Demby and Nathan Hickey also adding touchdowns.
How they scored
First Quarter 8:43 - Brandon Lassiter 15 run. Lassiter completed tempo-setting drive with run around right tackle. Lawrence kept the ball on the ground for all seven plays and 56 yards on game-opening possession. The Lions were put in good field position after a 34-yard kick return, also by Lassiter. Chris Cates kick. (Lawrence 7, Leavenworth 0). 2:15 - Matt Stiles 79 run. Lawrence had a 34-yard run by Nolan Kellerman negated by a holding penalty, but no harm was done after Stiles raced behind the Leavenworth secondary on a misdirection play to the right for the second Lions' score. Cates kick failed. (Lawrence 13, Leavenworth 0). :38.2 - Nolan Kellerman 2 run. Scott Penny did most of the work on this drive, catching a deep pass from quarterback Brian Heere over the middle. The tight end stiff-armed the last defender for the final 20 yards but fell just short of the end zone, tripped up at the 2. Kellerman went over right guard for the easy touchdown, then ran untouched for the 2-point conversion. Nolan Kellerman run. (Lawrence 21, Leavenworth 0). Second Quarter 8:12 - Lassiter 16 run. Paul Finch's lead block opened the hole on the right side, with Lassiter picking up his second touchdown on the night. The drive took a shade over two minutes, covering 50 yards with six runs. Cates kick. (Lawrence 28, Leavenworth 0). 6:08 - Brandon Lassiter 48 run. Lassiter again was the beneficiary of some clever ballwork by the Lawrence High offense, taking this misdirection run 48 yards around the right side for his third score. Abby Vestal knocked through the first extra-point ever by a female kicker in Lawrence High's history. Abby Vestal kick. (Lawrence 35, Leavenworth 0). 3:47 - Nathan Hickey 8 run. Lawrence took advantage of a botched Leavenworth punt, finding the end zone in three plays with a 12-yard drive. Hickey followed a huge hole to go untouched into the end zone. Vestal kick. (Lawrence 42, Leavenworth 0). Third Quarter :53.0 - Richard Demby 7 run. The starters were put in for one more series, and they did their best to stay on the field as long as possible. With the game under control, the Lions took up 8 minutes and 40 seconds, going 76 yards on 16 runs. Cates kick. (Lawrence 49, Leavenworth 0). Fourth Quarter 5:23 - Kenny Burns 5 run. The Pioneers put across their first points against the Lions' second- and third-team defense. Burns finally got on track, contributing 39 yards on five carries during the drive. Logan Ortiz kick. (Lawrence 49, Leavenworth 7).
Copyright 2018 The Lawrence Journal-World. All rights reserved. This material may not be published, broadcast, rewritten or redistributed. We strive to uphold our values for every story published.