Higher fuel prices might havesome people thinking about trading in their gas-guzzling sport utility vehicles or pickup trucks.
Or, drivers may skip routine maintenance to compensate for the higher fuel cost.
But some Lawrence auto mechanics say not so fast. Certain adjustments under the hood can make your vehicle more efficient.
"You may spend extra money now, but you're going to save a lot of money on down the road," said Rob Wendland, owner of Wendland Performance.
Wendland has tinkered with his Ford pickup, and now it runs much smoother. While he used to get about 17 miles per gallon on the highway, now he gets in the low 20s, he said.
Some of his solutions may sound a little strange. Wendland suggests more performance accessories when most people fear more engine horsepower could cost them valuable gas mileage. But it's all about making the car's engine work easier, which in turn makes the car run more efficiently and saves gas.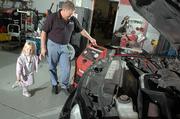 "We've seen some Mustangs that have a lot of horsepower actually get good gas mileage because they are just working so easy," he said.
One adjustment Wendland suggested is replacing a regular air filter with a performance air filter that never needs to be changed, only cleaned. It allows more air to flow to the engine than the regular paper filter, he said.
The engine can work more easily and conserve gasoline to about 1.5 miles per gallon, Wendland said. They cost from about $30 to $80, which may seem expensive, but with what they save in gas, they pay for themselves on seven tanks, he said.
"You can watch your savings go down into your dirty air filter," Wendland said.
Anthony Charley, owner of Meineke, said his shop offered performance air filters as an option, but cleaning them was also part of vehicle maintenance. Changing a regular air filter every 3,000 to 5,000 miles is a must, he said, and will help drivers get 10 percent better fuel economy.
For efficient gas mileage, oil changes and normal maintenance are still important. Some drivers may debate whether to use synthetic oil, which uses base stocks made from organic compounds or synthetic hydrocarbons instead of a petroleum base.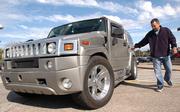 "You can use any type you like when you change it every 3,000 to 5,000 miles," Charley said.
Wendland said his shop had experienced good luck with synthetic oil. It creates less friction inside the engine, and it follows his mission of making the car work easier to improve gas mileage.
The improved gas mileage helps absorb the cost of a synthetic oil change, which is twice as expensive, he said, but synthetic oil users can drive their cars for about 7,500 to 10,000 miles between changes.
Wendland and Charley each also advised keeping tires inflated properly, the vehicle properly aligned and the spark plugs clean and firing properly. Following the car or truck's maintenance schedule will keep it running efficiently.
Maintenance should not be seen as another way to throw money at your car, they said.
Rob Wendland, owner of Wendland Performance Services, talks about Superchips.
Rob Wendland, owner of Wendland Performance Services, talks about Bully Dog chips.
Rob Wendland, owner of Wendland Performance Services, talks about how drivers can get the most mileage.
Rob Wendland, owner of Wendland Performance Services, talks about Cold Air Intake Kits, which can help drivers save gas.
Rob Wendland, owner of Wendland Performance Services, talks about how mufflers can save gas.
Get the best from your vehicle
¢ Be sure and check your owners' manual to see what kind of gasoline your vehicle requires. Chances are you don't need to use mid-grade or premium gasoline. ¢ Plan a route that allows you to maintain a constant speed as much as possible such as a highway. ¢ Speed bleeds both your tank and your wallet. According to the American Council for an Energy Efficient Economy, driving 70 miles per hour instead of 55 consumes 17 percent more gasoline. ¢ Driving with the windows down above speeds of 55 miles per hour increases aerodynamic drag and decreases fuel efficiency. Using your car's vent or air conditioner instead will be more efficient. ¢ Clean out your car. Reducing weight save gas. ¢ Make sure your vehicle's tires are inflated to the recommended pressure. Some mechanics will tell you to use the car manufacturer's recommendations which can usually be found on the inside of the driver's side door. Other mechanics will tell you to use the tire maker's recommended air pressure, which is usually found on the side wall of your tire. Either is fine. Source: 6News staff reports
Copyright 2018 The Lawrence Journal-World. All rights reserved. This material may not be published, broadcast, rewritten or redistributed. We strive to uphold our values for every story published.