Atlanta — Yemaya Stallworth came to Clark Atlanta University to get an engineering degree at a school where her teachers and classmates looked like her: black.
But that option may soon disappear - if not for her, then for the students who come after her.
The historically black university has decided to eliminate the engineering department in May 2008 as part of a cost-cutting move at financially troubled Clark Atlanta. The department is Georgia's only black engineering program.
"It's really our cultural responsibility to graduate from and be taught by our own people and to bring more children in and have them follow our path. That's going to be taken away from us," said Stallworth, a 20-year-old sophomore from New York City who hopes to earn her degree before the shutdown.
Clark Atlanta's trustees voted in 2003 to eliminate the engineering department along with the school of library studies, the international affairs department, the allied health professions program and the systems science doctorate program.
The board cited the university's $7.5 million deficit and a need to concentrate on areas like business, mass media, biology, education and social work - disciplines President Walter Broadnax said would draw more donors and raise Clark Atlanta's profile.
"We got into financial trouble because we had spread ourselves too thin," Broadnax wrote in March.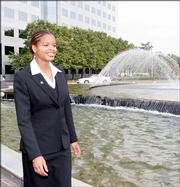 Eight engineering professors and a group of engineering students filed a lawsuit last Friday in hopes of saving the program, which has 85 students. A hearing is set for Nov. 10.
"There's a dire need for us to produce black engineers," said Kester Garraway, a senior in mechanical engineering. "The faculty can better relate to our struggles - some of us need that one-on-one time that we get at CAU."
The lawsuit alleges Broadnax based the phase-out on personal preferences, not on financial needs or department performance.
"We want the issue revisited," department chairman Lebone Moeti said. "It will be clear that the department should be put back together."
Provost Dorcas Bowles said the trustees' decision is final.
Clark Atlanta's program, which began in 1994, offers students majors in mechanical, chemical, electrical and civil engineering.
With the program closed, students will have to rely solely on an existing program where students attend Clark Atlanta for three years before transferring to one of 11 other schools to finish their engineering education, getting two degrees after five years from both institutions. One popular choice is engineering powerhouse Georgia Tech.
The department's closing would bring the number of engineering programs at historically black colleges nationwide to 13. Most are in the South, including two each in Alabama, Louisiana and Virginia.
Copyright 2018 The Associated Press. All rights reserved. This material may not be published, broadcast, rewritten or redistributed. We strive to uphold our values for every story published.