Jennifer Pogge got her start as a competitive gymnast at the ripe old age of 5, which means she has had plenty of experience taking the obstacles placed before her and making them work to her advantage.
The balance beam, the bars, the vault, even the floor routine - each presents its own set of challenges, and Pogge spent a large chunk of her adolescent life creating and recreating routines that not only would overcome them but, at the same time, catch a judge's eye.
That ability to adapt and flourish came in handy this summer, when, after a two-year layoff, Pogge decided to return to the sport she loves and embark on a high school gymnastics career.
After so much time away, she wasn't about to allow pesky problems such as the fact that she was an athlete without a team, or dealing with a left foot in dire need of surgery, keep her from returning to the pursuit of her passion.
"I didn't feel like I ever got to finish on a good note," Pogge said. "I just didn't feel satisfied with having to quit so soon.
"I had to do something about it."
Teammates wanted
While her family has lived in two different homes since she first toddled into school as a kindergartner, Pogge has only ever known one academic enviroment - the one offered by the Perry-Lecompton school district.
That was never a problem during Pogge's formative years as a gymnast, when her parents would make the short drive into Lawrence so she could practice and compete with her club program.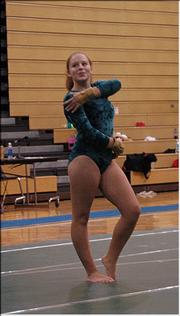 However, tiny Perry-Lecompton High isn't exactly a gymnastics hotbed. The combination of a small student body and a lack of adequate facilities means the Kaws don't field a team, and left Pogge examining her options.
Enter the Kansas High School Activities Assn. The governing body offers what's known as a cooperative agreement, allowing athletes from small Kansas towns the opportunity to compete at larger nearby schools should their respective sport not be offered in their home district. All that's required is for both schools to work out the details and submit the proper paperwork to the KSHSAA.
"It happens quite often," said Cheryl Gleason, an assistant executive director with the KSHSAA. "We have it a lot in swimming and diving, and we'll have a few in golf and tennis.
"We think it's good for kids to have the opportunity to participate, and if they (the schools) can do that, we support it."
Fortunately for Pogge, both her home school and Free State High were willing to work together on such an agreement.
"They (the Perry-Lecompton administration) really encouraged me to do it, said it would be a good opportunity," Pogge said. "I went to the coaches' meeting and met the coach and it wasn't a problem."
The coach, Kathy Johnson, knows a little bit about juggling athletes from multiple schools. Already in charge of both the Free State and Lawrence High programs, she had no reservations about adding another performer - especially one she'd had her eye on for some time.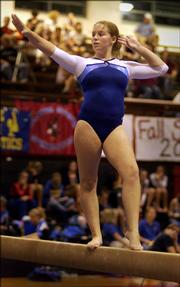 "Jennifer has competed with all of these girls in club, so she wasn't a stranger to any of them coming in," Johnson said.
"I don't know if she knew who I was, but I've known who she was since she was a little girl," Johnson added. "She was a little gymnast pointed out to me (at a club meet) - a little tiny thing that had a huge amount of potential."
Landing on her feet
With eligibility questions resolved, the biggest hurdle standing in the way of Pogge tapping into her reservoir of talent was the very thing that took her away from the sport in the first place.
While trying to stick the landing on a vault during a club meet as an eighth-grader, Pogge experienced searing pain in her left foot. Doctors never quite figured out the injury in detail, other than a diagnosis of a partial dislocation where the top of the foot meets the leg, a collapsed arch and a recommendation that Pogge undergo surgery to fix the problems.
However, that would mean no more gymnastics - a side effect she wasn't ready to accept.
Instead, Pogge took two full years off from competition but continued with weight training and conditioning drills in preparation for a comeback.
Once she returned to actual gymnastics skills, some adjustments were required.
"On floor, I have to watch out with the way I land because it will sting my foot," Pogge said. "On vault, we have to improvise my landing, because there's certain angles I can't land at.
"I just choose to work around (the necessary requirements) and do what I have to do because I love the sport. I have to find unique skills in order to fulfill my requirements and make sure I don't get hurt."
The results - especially given two years away from competition - are evidence of the potential Johnson was so excited about.
Pogge has proven to be one of the top gymnasts in the state on the balance beam this fall, taking home titles from a handful of invitational meets. Recently, she's also rediscovered her touch on the bars, finishing second on that apparatus at last week's Sunflower League competition.
The hope is that solid one-two punch will be strong enough at Saturday's regional meet in Newton to help Pogge earn a trip to next week's state meet on the Firebirds' home floor.
"If she just does what she's capable of doing, I think she would qualify in one of the top six all-around spots," Johnson said.
No 'P' in Firebirds
Should Pogge do that, it will be a bit of a good news/bad news scenario for Free State.
The good news, obviously, stems from seeing a member of the team make it to the pinnacle of high school gymnastics.
The bad news is she technically won't be part of the team.
Now that the league meet is over and the remainder of the schedule is under the guidance of the KSHSAA, Pogge no longer falls under the Free State umbrella. She'll represent Perry-Lecompton at the regional meet, and again at state should she get that far.
The impact on Pogge should be minimal. Free State is also competing at the Newton regional, which means Johnson will be on hand to give her advice, and her Firebirds teammates will continue to lustily offer their support.
However, Free State will now have to make do without one of its top performers when the time comes to calculate the Firebirds' team score.
"It just means that with the depth that Free State has, which isn't as strong ... you're trading a high score out," Johnson said. "But they're still a strong consistent squad. They still have a very strong chance of qualifying for state."
Which means, factoring in the state berth earned by Lawrence High during Tuesday night's regional at Olathe North, there's a good chance three local teams will be vying for headlines next Saturday.
"I'm so excited. I'm taking my own (team) banner to regionals and bringing it to state," Pogge said.
"I'm glad to get Perry on the map ... because it's so little. It doesn't get much attention."
Copyright 2018 The Lawrence Journal-World. All rights reserved. This material may not be published, broadcast, rewritten or redistributed. We strive to uphold our values for every story published.