Merle Zuel thinks of his stepson almost every day when he drives on Sixth Street and passes the Graystone Drive intersection.
A decorated iron cross on the north side of the street is a reminder of how and where 23-year-old Matt Thompson was killed: his motorcycle was hit by a pickup truck there Nov. 20, 2004.
"It sounds silly, but I kind of say 'Hi' to him in my own little way every time I go by," Zuel said.
Roadside memorials to accident victims have become increasingly visible over the years along city streets, county roads and state highways.
No one keeps track of the number of memorials that are out there, and creating such memorials is nothing new.
"I've been a trooper for 17 years and I've always seen them around," said Kansas Highway Patrol Lt. John Eichkorn. "I think they've maybe become more elaborate."
Long history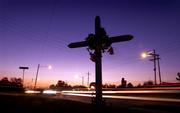 The practice of placing memorials along roadsides has a history that dates back long before the automobile. Pioneers traveling through the western United States often buried loved ones along wagon trails. The memorials usually consisted of a small wooden cross.
Some called the crosses "descansos," a Spanish word meaning rest or relief, and which symbolized the remembrance of life and death. Travelers sometimes stopped for a brief prayer when they came upon a descanso.
Today roadside memorials are used to help ease the grieving process for family and friends of the victims. Thompson's friends and family also see it is a reminder of an injustice. They were upset when the driver of the truck that hit Thompson was not charged with a crime.
"It was just one of the symbolic tragedies and a waste of a young life," Zuel said.
Last year on Christmas Eve friends and family held a candlelight vigil at Thompson's memorial.
"It was more of the healing process," Zuel said.
State officials don't know of any studies that have tried to judge whether roadside memorials cause drivers to be more cautious. Eichkorn thinks seeing them might have some effect.
"I think that generally it does make people think about a death that may have occurred at that location on a highway," he said. "I would hope that it would remind people to practice safe driving, buckle up and do all that you can so that we don't see something like that occurring again."
Steve Swartz, a spokesman for the Kansas Department of Transportation, agreed.
"I know personally it certainly gives me pause," he said. "It certainly doesn't hurt our traffic message for people to see crosses and memorials along the side of the road."
Showing understanding
State and local highway and road officials say they try to show respect and understanding for roadside memorials. Most are located on public highways or road right-of-ways.
"We want to work with people" Swartz said. "They're grieving and we understand that the memorials are something that helps family and friends. The main thing is to be understanding, but safety has to be assured."
The KDOT maintenance manual has a section that outlines how to handle roadside memorials. It calls for the local supervisor to evaluate the safety characteristics of a marker, both for motorists and highway maintenance crews. Unobtrusive markers placed well away from the highway usually don't need to be removed, according to the manual.
Graystone Apartments, 2500 W. Sixth St
"The main idea is just so there is safety and it doesn't create a situation that is difficult for mowing," Swartz said.
If the marker is not maintained and becomes an eyesore then it will be taken down. A KDOT representative will try to contact a family member about the matter, according to the manual.
There are no written rules concerning roadside memorials for Douglas County road maintenance crews to follow, county engineer Keith Browning said. He knew of only one memorial along a county road. The county has the same safety concerns the state has.
"If the memorial is being maintained and it is not a traffic obstruction we usually won't make a big deal out of it," Browning said.
Permanent placement
Thompson's memorial is on the edge of property belonging to Graystone Apartments, 2500 W. Sixth St. Family members received permission to place it there, Zuel said. The memorial was set in a small base of concrete and there are no plans to take it down, he said.
Zuel said he doesn't mind driving by the memorial even if it is a constant reminder of the death of a loved one.
"There are times when I don't think about it but most of the time my eyes dart over to it and I have a thought about him," Zuel said. "What happened to him was bad but I have a lot of good memories about him."
Copyright 2018 The Lawrence Journal-World. All rights reserved. This material may not be published, broadcast, rewritten or redistributed. We strive to uphold our values for every story published.