Dog shows. Family reunions. Auctions. The Douglas County 4-H Fairgrounds provides a space for all types of area events.
The fairgrounds is a popular place and becoming more so, said Trudy Rice, executive director of K-State Research & Extension in Douglas County. Her office is at the fairgrounds, so she has a good idea how often the location is used.
"The fairgrounds always has been under demand for space," Rice said. "But I would say the demand increased over the last two and a half years."
As a result, county officials will be discussing options to make sure rental fees cover the costs involved with operating and maintaining the fairgrounds.
Harold Stewart, a Kansas University public administration graduate student interning in the county administrator's office, said there are few weekend openings available at the community building, and the same goes for other locations on the fairgrounds.
The community building is reserved every weekend for the rest of the year with the exception of Dec. 17, Stewart said.
"In 2006, I see there's four weekends that there is nothing scheduled," he said. "One of them is Easter weekend."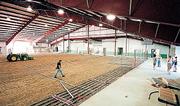 County leaders are planning to look at ways to allow for more flexibility on the weekends.
Stewart said one possibility could be changing the rate structure. The county currently rents out facilities based on a six-hour block rate. Many other counties rent out their fairgrounds' space on an hourly rate.
Douglas County also undercharges for the use of some structures when compared with similar facilities at other county fairgrounds, he said.
For example, part of Building 21, which recently housed a flu clinic, rents for $60 a day. In Riley County, similar-sized rooms rent for $30 to $50 an hour.
Douglas County Commissioner Jere McElhaney said he doesn't care what other counties charge. But it is time for the commissioners to review rental prices, he said.
"We artificially set our prices low when the community building went in about four or five years ago because we needed to find out what kind of use we would have," he said.
It now is time to re-evaluate the rental fees, McElhaney said. The county doesn't need to make money off renting the buildings, he said, but the fees should assist in covering the costs associated with upkeep.
The other way to possibly create more flexibility is through the reservation process, Stewart said. Currently, people can reserve space a year in advance.
"There's a possibility of changing how reservations work, but that's something we're still looking into," Steward said. "We are open for input."
Commissioners likely will discuss fairgrounds operations on Oct. 31.
Copyright 2017 The Lawrence Journal-World. All rights reserved. This material may not be published, broadcast, rewritten or redistributed. We strive to uphold our values for every story published.