Rising natural gas rates do more than drive up home-heating costs.
Try adding hundreds of dollars to Larry Landis' fertilizer bill.
"The prices - everything's going nuts," said Landis, who farms 260 acres in rural Lawrence. "I don't know what we're going to do next year. It's all so high."
Recent spikes in energy costs are feeding growing concerns in the agricultural community, which is finishing an above-average fall harvest that is fetching below-average prices.
And while reports of solid yields, good crop conditions and relatively few storage concerns are a bright spot for farmers, the skyrocketing price tags on farm inputs are positioning them for pain.
Fertilizer prices already are up 50 percent from a year ago, and could go even higher as natural gas prices - a key component in the production of crop nutrients - continue to rise.
A ton of nitrogen fertilizer that cost $175 in 2002 and started this year at $305 today is going for $400 or more, said Bill Wood, ag extension agent for K-State Research & Extension in Douglas County.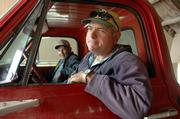 "And the projections are that by spring it could be up over $500," Wood said.
Such costs are pushing many farmers into an especially difficult position, Wood said.
Typically, farmers rotate their crops, so that land that might have been used for soybeans this year might be set aside for corn in the spring.
But soybeans typically don't require application of extra fertilizer, Wood said, while corn certainly does. And at about $33 an acre for fertilizing corn, the costs can add up.
"If you have 400 acres, that a $13,000 difference," Wood said. "You can see the temptation to plant soybeans rather than corn."
Soybeans already are the county's top cash crop, accounting for about half of all row crops planted, Wood said. Expanding that acreage even more could save farmers input costs in the short term, but end up costing them in the long term.
Failing to rotate crops, or having a lack of fertilization, can trim 12 percent to 15 percent from a crop's yield, he said. With less grain headed into the bin, that means less money going into the farmer's bank account.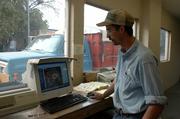 Then there's the cost of diesel. The fuel for tractors, trucks and other farm equipment was going for $3.59 a gallon Friday at the Ottawa Co-op, after going for a little more than $2 a gallon a year earlier.
With the Douglas County farm economy estimated to generate more than $30 million a year, Wood said, the effects of such expenses can reach deep into the Lawrence-area economy.
"We're all facing higher gas prices, and higher fuel prices to heat our homes, but they're getting a double whammy - the input costs to make their living are going up, too," Wood said. "I don't face that. I don't drive a combine that uses 200 gallons of diesel a day. I use a computer.
"If we took a survey of all the farmers in the county, there are some who would say, 'I'm not sure how I'm going to make it.' "
Landis, for his part, figures he'll take a chance and not plant much corn this spring. Going a season without rotating is a chance that might be worth taking.
"Last year we cut down on our corn acres and planted more beans, because it was cheaper to put beans out there than it was to do corn," said Landis, whose fall harvest consists of 60 acres of corn, 100 acres of soybeans and 100 acres of hay. "I'm not going to put 100 acres of corn out, I know that right now. It'd cost too much."
Matthew Vajnar, who runs the grain operations for Ottawa Co-op, said that he'd heard from other farmers who were thinking about placing a heavier emphasis on soybeans for 2006.
"Guys have choices now," he said. "The costs certainly will cause them to rethink whether they want to plant corn."
Copyright 2018 The Lawrence Journal-World. All rights reserved. This material may not be published, broadcast, rewritten or redistributed. We strive to uphold our values for every story published.