The phone could be the key to diet success.
A study recently conducted at Kansas University found that a phone-based weight-loss program helped dieters shed the pounds.
"It worked for me," said Ron Palcic, an Olathe resident who dropped 30 pounds on the regimen. "Everybody in my group did well. They all lost weight."
The program is a twist on the typical counseling and group-support method. Rather than meet at one site and discuss the ups and downs of dieting, the participants chat over the telephone once a week.
It's meant to accommodate the busy and calm the shy, who may not like having face-to-face meetings, said Keith Van Gasken, a senior trainer with Health Management Resources, the Boston-based company that started the program.
"I think this sort of program is the wave of the future," said Van Gasken, noting that the success of the program offers potential for more self-directed or Internet-based programs.
A study of the program was led by Joe Donnelly, director of KU's Center for Physical Activity and Weight Management. Donnelly could not be reached for comment Thursday.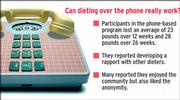 The study included a group who followed a diet and underwent face-to-face counseling and a second group that received their diet counseling over the telephone.
For 12 weeks both groups followed the same diet - provided by HMR - of shakes, prepared entrees, and fruits and vegetables. That was followed by a 14-week maintenance period.
The results for both groups were similar. Those who received their counseling by phone slimmed by an average of 23 pounds over 12 weeks and 28 pounds over 26 weeks. The group that underwent in-person counseling lost 28 pounds in 12 weeks and 28 pounds in 26 weeks.
Elizabeth Stewart, a post-doctoral researcher who helped coordinate the study at KU, said she was surprised by some of the results.
"I'm surprised at how well they reported the rapport with their group leader and with the others over the phone," Stewart said. "I would think that you had to see people face to face."
The dieters called in their weight to HMR twice a week. And they called in for one 45-minute conference call per week. At any point, there could be dieters from across the United States all gathered on the same conference call, which was led by a counselor.
Group sizes range from a few people to more than a dozen, but never more than 20 people, Van Gasken said.
The same phone group stayed together throughout the program. They grew to recognize one another's voices and to develop relationships.
Palcic, an associate professor of mathematics at Johnson County Community College, said the group appealed to his competitive side.
"I wanted to be in the top of the class in the number of fruits and vegetables we ate," he said.
On the phone, they shared tips, such as ways to make healthy french fries or pointers for dining out.
They shared in their successes and their slip-backs.
"You felt like you had a commitment to one another," Palcic said.
Palcic said he would have been intimidated in a typical counseling session, where he would feel like he was the heaviest one in the room.
"I was afraid I was going to have to step on a scale in front of people," he said.
But Palcic bypassed that problem and benefited from the flexibility.
Palcic called in for his counseling session while on business trips or vacation.
"I called in from California on my cell phone, sitting by the pool at the hotel we were at," he said.
Palcic has since regained 10 pounds, but he wants to get back on the program. It has helped him make permanent lifestyle changes, he said.
Stewart said dieters reported liking the fact that they kept some privacy and anonymity, but also had support in shedding the weight.
"It seemed to strike a really positive mix of this accountability and anonymity that people really liked," she said.
KU researchers are pursuing grant funding to study the program on a larger scale.
Copyright 2018 The Lawrence Journal-World. All rights reserved. This material may not be published, broadcast, rewritten or redistributed. We strive to uphold our values for every story published.