"They were saying we all ought to get used to 60 degrees this winter," my wife said.
"Sixty? That's pretty low, mom," Katy said.
My wife and our daughter were sitting on the couch Sunday night, watching "Desperate Housewives."
During a commercial, I had mentioned heating bills for natural gas were supposed to skyrocket this winter. So our talk had turned to lowering the thermostat.
But Katy didn't seem that desperate to save money.
"I don't think I'd want my house to be 60," she said.
"Maybe we ought to look at getting a programmable thermostat," I said, as Teri Hatcher returned to the TV screen.
Rates heating up
How high will heating costs go?
Reports vary. Last week, The Wall Street Journal reported that people who use natural gas could see a 71 percent jump in price over last year.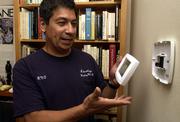 And this week, the Energy Information Administration put the increase at 48 percent, saying that amounts to another $350 on average higher than last year.
George Minter, a spokesman for Aquila, Lawrence's natural gas utility, said it depended on where your supplier was getting its gas.
Minter estimated that natural gas bills for Kansas customers could increase by up to 50 percent more than what they were last year.
He listed a lot of things you can do to cut consumption, such as caulking around windows and doors, increasing insulation and turning your water heater down. And, he said, a programmable thermostat also can help.
The 5-degree rule
I was skeptical. Can't you do the same thing just by changing the thermostat dial yourself?
Minter put me in touch with Steve Watson, Aquila operations supervisor.
Watson says a programmable thermostat sets the temperature back to a lower level regularly, so that you don't have to remember to do it yourself. It will pay for itself and save you money, Watson said.
Audio
George Minter, a spokesperson for Aquila, Lawrence's natural gas utility
Steve Watson, Aquila operations supervisor
Links
"We tell people if you can drop it down for eight hours, it can work for you," he said.
I told him I'd heard from various people you should consider keeping it at 68 during the day and dropping it down to 60 or 62 while you're asleep or away.
"People always look for that magical setting," Watson said. "It's where you can still maintain comfort."
A lot of people think they're saving big bucks if they lower it overnight by 10 or more degrees, he said.
But they're wrong - you save only if you don't fluctuate any more than 5 degrees, Watson said.
"You pretty much lose what you've saved if you have to bring the whole house temperature up more than 5 degrees," he said.
Automatic settings
Honeywell, one of the biggest thermostat manufacturers, says you can cut your heating and cooling costs by as much as 33 percent with a programmable one.
"They definitely can save you money," said Andrew LeBar, a manager at Home Depot, 1910 W. 31st St.
Even though this week's weather was fairly warm, "people have still been coming in looking for them," LeBar said. "And when it gets cold, they'll really come in."
A.R. Wells, store manager of Westlake Hardware, 601 Kasold Drive, said the prices for those he carries - the Honeywell brand and Ace Hardware's own brand - range from $34.95 on up.
"I haven't seen a rush on them all of a sudden right now. But, I'm sure they'll generate a sales pickup when the weather changes," Wells said.
Setting the controls
Generally, you can buy three different kinds of programmable thermostats.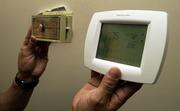 There's the "7-day" model that lets you program different settings for each day a week. Then there's the "5+1+1" models that let you program the five work days, then Saturday with its own setting and Sunday with its own.
"But I think for the vast majority of people, a '5+2' is probably all they need" Watson said. It lets you do the five week days, then the weekend at different settings.
Going with a pro
The models sold at most hardware stores are easy enough for do-it-yourselfers to figure out. But if you don't like the idea of messing with wiring and electricity, you might want to call a professional to install it.
Randy Ortiz, president of Advantage Heating & Air Conditioning, 406 N. Seventh St., said he's had a lot of calls about them.
"We're definitely seeing an upswing in them since the gas prices are going higher," Ortiz said. "I would say it's a substantial amount."
Ortiz says his favorite among the programmable models is the Honeywell Visionpro 8000 (about $200 to $250), which he recommends to his customers.
You can set it for four different temperatures each day - a temperature for waking up, a temperature after you leave in the morning, a temperature for when you return home and a temperature for sleeping.
It also has a large, backlit digital touch screen that's easy to use, he said.
"Its the most consumer-friendly one," Ortiz said.
Beyond touchscreens
I was a little surprised to find that some thermostats actually talk to you.
There's the Kelvin Voice Interactive Thermostat ($129 through ActionTalkingProducts LLC), which is designed for the visually impaired, disabled, elderly or anyone who has difficulty seeing and programming a standard thermostat.
Once you program it, the speech recognition technology allows you to raise and lower the temperature with voice commands. It allows you to preset temperatures for each day of the week.
I also found a thermostat by TalkingThermstats.com that allows you to change your thermostat settings by phone.
The Commstate CEM-24 Super lets you dial in a four-digit password to check and change settings. It also has 5+1+1 programming abilities, with four different settings for each day.
And I found a thermostat that you can control through a Web site - the Prolophix Network Thermostats (about $254).
If you're away from home a lot, or if you have a vacation home, this would be a good way to manage your heating and cooling via the Web.
I mainly liked it for the geek factor.
Holding out
I was wondering if it would be worth it to shell out about $50 or so for a 5+2 programmable thermostat or spend up to nearly $300 to have a top-of-the-line Honeywell 8000 installed.
As I was thinking about it, our new Time magazine arrived. There on the cover was Steve Jobs, with a story about how the new iPods now plays video clips - including episodes of "Desperate Housewives."
It struck me that the new video iPods costs just a little more than a really good programmable thermostat - about $295.
"I think we should get a programmable thermostat," my wife told me as I read.
"I don't know, yet," I said.
First music, then photos, then an iPod phone. And now iPod video.
Hmm. Maybe I'll hold out a little while.
Jobs just might figure out a way to allow me to control my whole house - including furnace settings - through an iPod.
I see no reason to take desperate measures just yet.
Copyright 2018 The Lawrence Journal-World. All rights reserved. This material may not be published, broadcast, rewritten or redistributed. We strive to uphold our values for every story published.